Good evening, fellow GID lovers! I'm back again today to (finally) tell you more about the unit we are developing for Norman Public Schools 5th grade science curriculum. You've met our team, read about the importance of a collaborative culture, and heard my thoughts on GID at the district level. Today, I walk through the first four phases of our project so you can see exactly what we've planned.
(Note: In this post, you will see shots of our planning team's notes. If you're curious, purple items are to-dos, red is the objective, and blue is the actual student activity. If you're NOT curious, go ahead and make fun of my color-coding.)
OPEN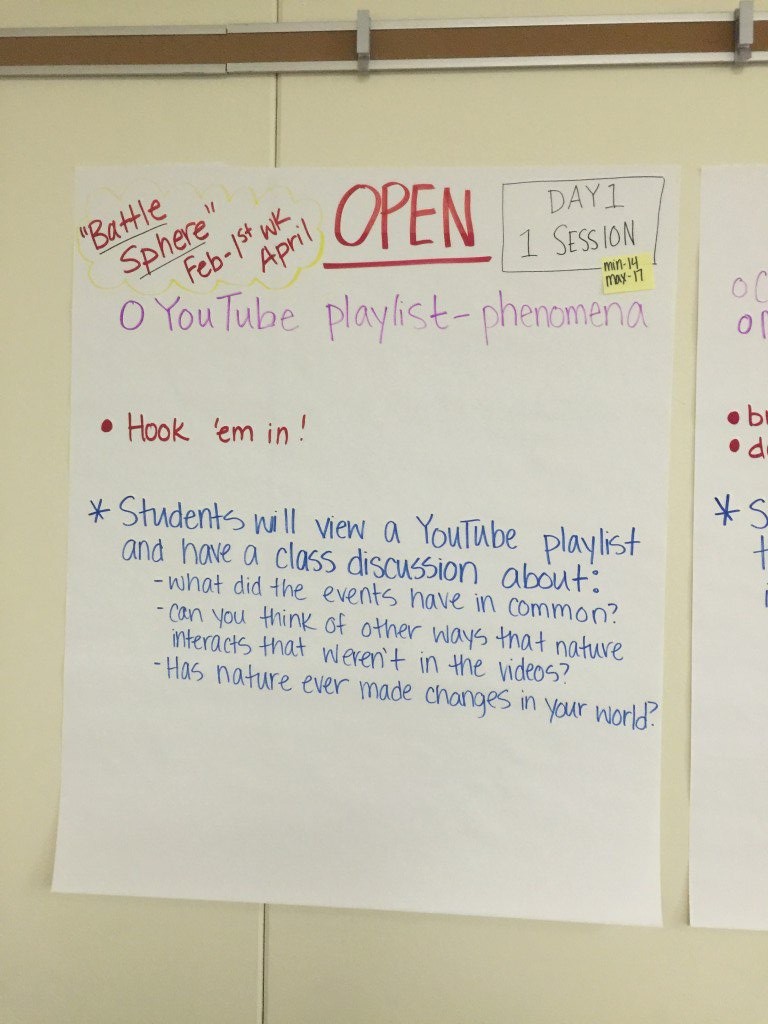 You'll see we have titled our unit "Battle Sphere"; this unit is being developed around the 5th grade Oklahoma science standards, looking at how the biosphere, atmosphere, hydrosphere, and geosphere interact. To really hook students into the topic, our planning team will create a YouTube playlist of videos depicting these interactions. For example, students will view videos of landslides, weather events, eroded landscapes, and more. Then, the class will have a discussion about the videos, answering the questions:
What did the events have in common?

Can you think of ways that nature interacts that weren't in the videos?

Has nature ever made changes in your world?
We hope that by showing students these dramatic interactions in videos, they will develop an interest in the topic and begin to form some questions about interactions between the spheres.
IMMERSE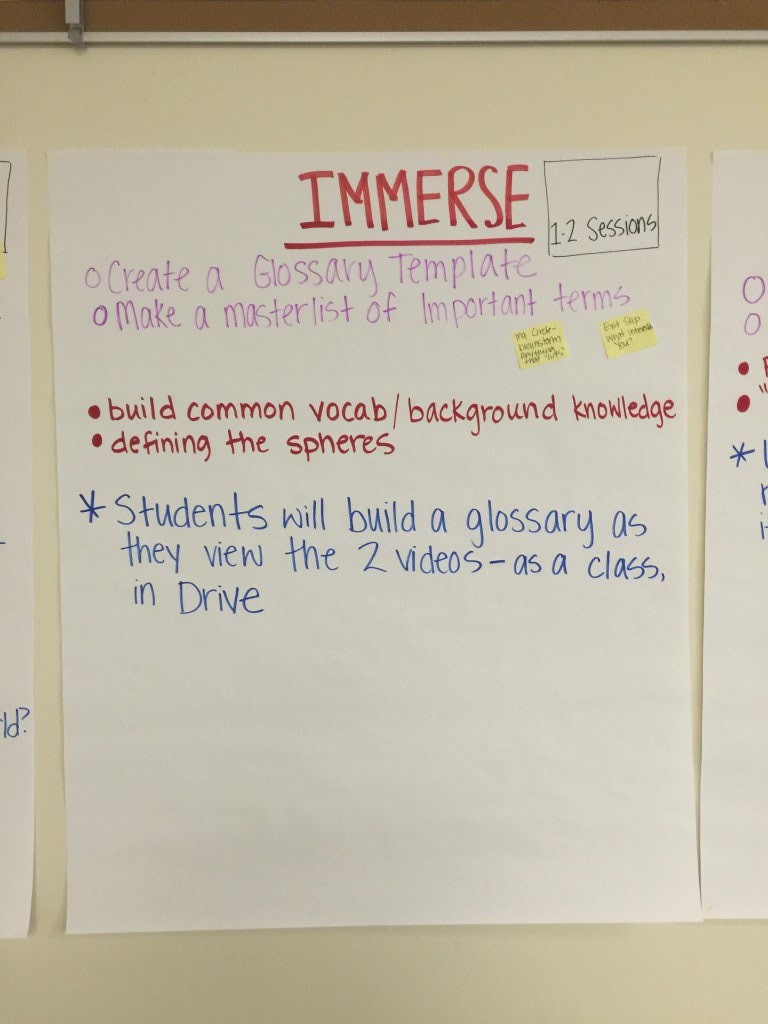 After they're hooked, we will begin to immerse students in the content by watching two videos that will help make the spheres and associated vocabulary more accessible and interesting:
Four Spheres Part 1 (Geo and Bio): Crash Course Kids #6.1
Four Spheres Part 2 (Hydro and Atmo): Crash Course Kids #6.2
After viewing the videos, students will build a glossary of new terms they heard in the videos. This is an example the the flexibility I talked about yesterday. Depending on the students, teachers, and resources at the individual site, this step could look very different. Students could do this as a class, in small groups, with the teacher, or with both the teacher and librarian. I love that we are building in adaptability to customize the unit for every school. Where possible, we are encouraging teachers to build this glossary in Google Drive, but no matter how it is done, students will be able to access the glossary throughout the rest of the unit.
EXPLORE
Using an inquiry log, students will explore through a carefully curated resource menu. They will track which resources they viewed and the corresponding questions that were sparked. In my personal experience with Guided Inquiry, I have learned that it is difficult for elementary students to foresee the scope of their research from the beginning phases. If we ask them to explore open-endedly, they can easily get off track, and they don't understand the benefits of this phases as older students might. Assigning an inquiry log or journal in this phase is crucial to the success and engagement of younger students.
IDENTIFY
As you can see from the picture of our notes, this phase isn't quite as fleshed out as the rest yet. To identify which two spheres' interactions are most interesting to them, the student will use an inquiry journal to elaborate on what they logged in EXPLORE. To facilitate this, our planning team will come up with specific questions for a journal prompt. After evaluating the journal responses, teachers will assign students to inquiry circles based on their area of interest. The inquiry circles will consist of students who are interested in the interactions between the same two spheres, so there will be six inquiry circles. We are allowing for flexibility here, but we discussed how fun it would be to have all 5th grade students in one school divided into these six inquiry circles.
And there you have it: the first four phases of our plan. What do you think? What do you see that you like? What would you change?
Kelsey