I am Mary Keeling, Supervisor of Library Media Services in Newport News, Virginia.
My district's librarians have been working with an inquiry process model since 2006. Universal adoption, our goal from the start, has been elusive. As a 2015-2016 Lilead Fellow, my project goal was to transform learning in my school district using teacher-librarian teams to foster inquiry and support teachers as they adopted an inquiry stance. We understood that implementation would be different in every building, and that sharing experiences would empower others to try. It is not enough to do good work; we have to share our stories so people can visualize themselves doing the same thing. Part of the change process involved amplifying the message!
The communications plan for this project included several elements: meeting one-on-one with principals to explain inquiry, securing news coverage for inquiry projects through our districts' television production department, and sharing inquiry stories through newsletters. A design goal for the newsletters was to make the information highly accessible with colorful pictures, examples of student work, short paragraphs, and bulleted lists of "how-to" information. The newsletters were distributed monthly to principals, executive directors, and curriculum supervisors.
In the next posts, I'd like to share some of these newsletters to show what we've done to amplify our message.
Inquiry News 1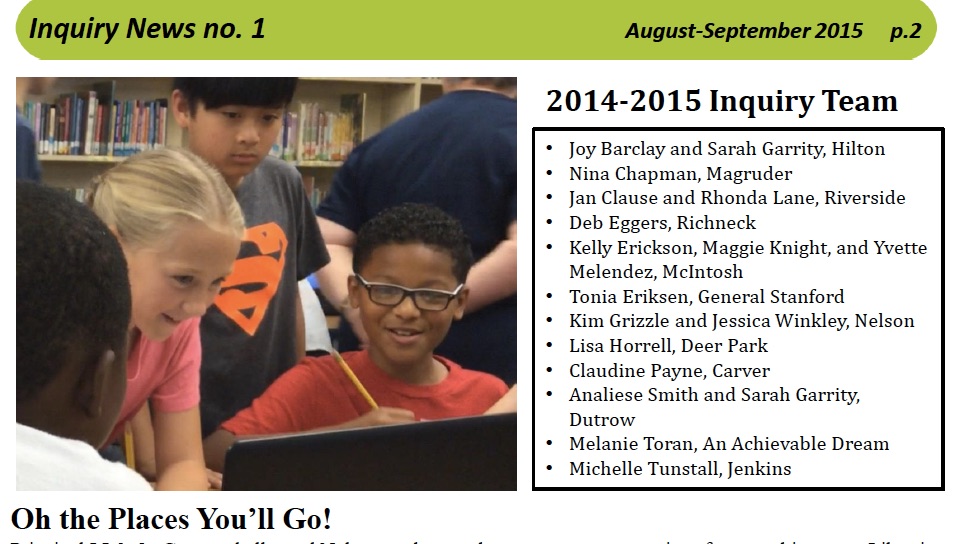 In this issue we introduced two examples of different experiments with Inquiry that had been conducted between March and May of the previous school year. Reading specialists and Instructional Technology Coaches were invited to join librarians. However, in some schools, librarians OR reading specialists worked alone. Principal support was significant in both of these examples.
To read the full newsletter, click on the link below! Enjoy!
inquiry-news-1-aug-sept-2015_ed-for-gid
Tomorrow, I'll post another example!
Mary Keeling
Supervisor, Library Media Services
Newport News Public Schools
Lilead Fellow, 2015 – 2016