Greetings from 'down under' where many of us are actually 'on top' of Guided Inquiry Design and how it can be the catalyst for the development of inquiry based learning through the school library. Now days many teacher librarians in Australia are trained in GID and go into schools already knowing about using this as a tool to collaborate and assist teachers and students to integrate Information Literacy in their schools.
My name is Alinda Sheerman and I work as Head of Information Services and teacher librarian in a PreKinder to Year 12 school, Broughton Anglican College, about 100 kilometers to the south-west of Sydney on the edge of a massive housing growth area but still set in the open spaces and backing onto a reserve.
[Broughton Anglican College Information Resource Centre's central position: The K-6 classrooms are to the left and the 7-12 classrooms at the back. The school's Main Administration is situated along the front of the library building.]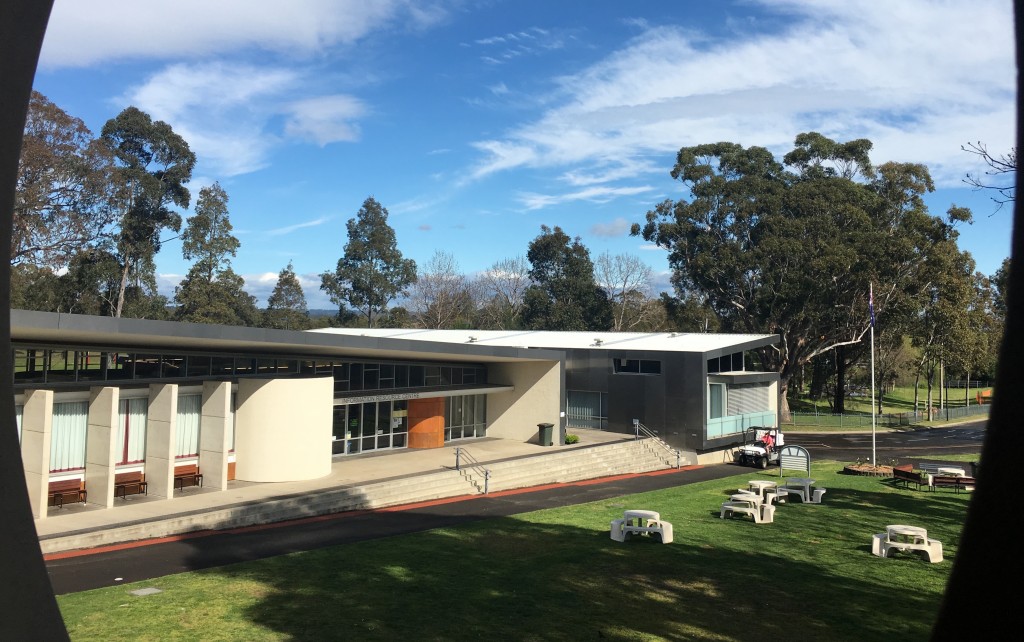 We have around 1000 students in total and the library is shared by all age groups with 6 'bookable' learning spaces and physical and digital collections for everyone. I am the only Teacher Librarian but do have two full time Library Assistants who have formal training in their role and without whom I just could not survive!
My Story:
I have been a teacher for nearly 42 years now – initially I was trained in Primary education but whilst following my husband as a Principal to a series of K-12 schools, I worked for a number of years as a part time or casual teacher in Secondary subject areas as well and this experience has been very useful in my position as K-12 Teacher Librarian.
During my Master's studies in Teacher Librarianship, lecturer Lyn Hay introduced me to the amazing world of integrated technology and its possibilities excited me greatly!
After completing my Master of Applied Science (Teacher Librarianship) in 2007, I was looking for something to keep 'learning' about and began investigating Action Research – initially into student reading.
That year, however, my life was set to change when I went to a Syba Signs Teacher Librarian Conference in Sydney to hear Dr Ross Todd speak about the Action Research project just completed into the use of Guided Inquiry at Lee Fitzgerald's school in 2006. Lee was also at the conference and spoke about the project from her perspective as Teacher Librarian.
(Lee blogged on this site for the week commencing 22 February and gives a great summary of GID in Australia to date: https://52guidedinquiry.edublogs.org/2016/02/22/teacher-librarians-forever/ )
I was inspired from then on and went home from the conference armed with Dr Carol Kuklthau's original book "Guided Inquiry: Learning in the 21st Century School" (as well as Loertcher's "Ban those Birds Units" with its scaffolds for learning)! The theory behind the practice was very worthwhile reading.
In that same year Dr Ross Todd also wrote an article for our Australian Education Journal, Scan, in which he described how Carol Kuhlthau's original Information Search Process formed the "instructional framework for understanding the student's journey of information seeking and knowledge building and a basis for guiding and intervening to ensure students develop deep knowledge and deep understanding"  (In 'Guided Inquiry supporting information literacy", Scan Vol 26 No2 p29, May 2007.)
I have taken Table 1 from that article and made it more visual. This cycle was my original inspiration to try out this process – Building on existing knowledge to produce new knowledge
For the following year, 2008, I applied for, and received, a grant to initiate Guided Inquiry in my K-12 school and to conduct Action Research on this. I found that a group of other schools, headed up by Lee Fitzgerald, also had a similar grant so I joined them and through the use of a wiki and visits to Australia we were all guided by Ross Todd in our initial practice. I also used the grant money to take some teachers to hear Ross Todd at another Syba Signs conference on Guided Inquiry and we were off and running. (When we get tired, Lee and I often say that "Ross has a lot to answer for"!)
In 2009 I applied for another grant to continue a second cycle of Action Research and this time the team included four classroom teachers, the Head of Humanities, the Special Needs teachers and myself as Teacher Librarian. At the end of that year we made a presentation to the whole staff about our experience with teachers and students speaking about how they 'journeyed' through Guided Inquiry.
From then on I have lost count of the number of teachers that I have assisted in implementing this pedagogy into their classroom. Many have gone on to teach others in Grade 'buddy' systems in place at Broughton.
Last week I was privileged to be asked to speak at an educational conference in Sydney about the use of technology for differentiation. When I considered Guided Inquiry and how we, at Broughton, have used technology with it, I could see that a wonderful partnership has developed.
Guided Inquiry Design PLUS technology equals knowledge growth and deep understanding without discrimination.
Technology has made the GID process infinitely more successful as we differentiate at all levels – Process, Content and Product/Sharing and Evaluating/Assessing the final knowledge created. We have seen some students experience successful learning for the first time when personal blocks have been removed through technologies such as 'text to speech' and assessment through oral means rather than written. One teacher who records her student's ideas said recently that for the first time she really knows what that student thinks.
This is the ninth year that I have been assisting teachers to implement Guided Inquiry in the classroom and over the years some units of work stand out above the rest as being amazing learning experiences for us all. As the teacher and teacher librarian become part of the learning team together the success means so much more.
Only one teacher has been 'game enough' to use GID for a Year 11 class in their Preliminary Course for Australia's Higher School Certificate which gives entry to University. Most of these courses are quite content driven culminating in an exam and time is of an essence. I have shared some of the experience here http://www.slideshare.net/AlindaS/guided-inquiry-in-the-senior-classroom-pdhpe-year-11-2014. More videos of the teacher Paul's evaluation of the unit of work can be found here: http://bacirc.edublogs.org/guided-inquiry/gi-2014/ (Scroll right down)
Every year our Year 10 Commerce class explores "Issues in Australian Society" using Guided Inquiry and this is always a highlight for me as students take up issues and look for ways to improve problems or become a voice for awareness in an area.
Early this year our four Year 8 classes explored Medieval Europe, learning and sharing in the GID process. For the first time I 'blogged' my way through a very busy few weeks in six posts.
This can be found on the blog Lee Fitzgerald and I set up to support our Australian teacher librarians as they team-teach units from the Australian Curriculum. We share programs of work, scaffolds and encourage dialogue from our Australian cohort and any other interested people! (http://guidedinquiryoz.edublogs.org/2016/03/02/medieval-europe-year-8-at-bac/ )
I remember two years ago I was assisting students in a class and discussing what was happening with their teacher when the amazing learning dynamics and knowledge growth that was happening right before our eyes became a 'goosebumps' experience. I had only experienced this in music events in my life before. How can a classroom environment produce goosebumps? It was the observation of students who previously were normal Grade 5 kids becoming autonomous, very excited learners who were sharing this with everyone and bouncing off each other. I know just how special it was for everyone because this year they are in Grade 7 and when I met them to begin this year's unit recently they were excited to begin with – they too remembered our previous time together!
I decided I should blog about this particular class here as I have not had the time to put the experience on paper previously.
The next few posts this week will describe that experience so… stay tuned! (Alinda Sheerman)