When I was first asked to help a Year 5 teacher, Catherine Havenaar, with an integrated Year 5 unit on 'Global Connections', I was initially a little cautious about how we would achieve the integrated English and Humanities outcomes. She was in her first year of teaching – after being a Paramedic for many years – but had been inspired to try Guided Inquiry after a seminar I gave to the whole Primary staff at the beginning of the year.
The first step of any unit of Guided Inquiry, of course, is to plan with the teaching team. By the end of the first session I knew we were on a winner.
Right from the start Catherine and I bounced off each other with ideas and this continued throughout the unit until it actually became an exhaustingly huge project. However, because the students all joined in the 'fun' of learning together it was an experience never to be forgotten.
The fact that the G20 Summit was taking place in Brisbane at the time was such a bonus. Having world leaders right here in Australia and on the news, made 'global connectedness' so relevant to the students. I love this research plan a student was working on later – Can there be a G21?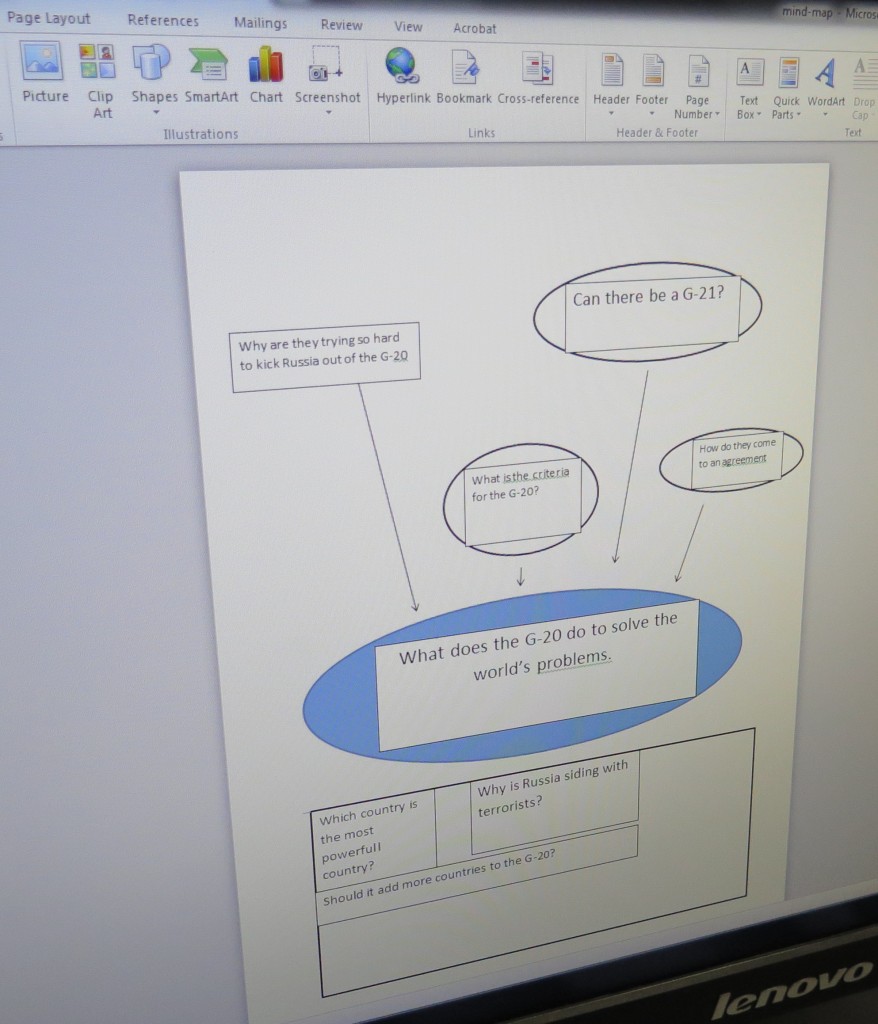 The Programme of work is available here: http://guidedinquiryoz.edublogs.org/practice-2/primary-guided-inquiry-units/
Australian Curriculum – Stage 3 
Human Society and Its Environment: Global Connections
Key Focus:
What impact does Australia have on the world stage through our global connections?
Contributing Questions:
In what different arenas does Australia contribute to the world?
What are our responsibilities in making sure all people are treated with respect and provided with basic human needs?
OPEN: As with all GID units we began with checking prior knowledge and global organisations that the students recognised.
Activity 1: Complete 'pre-test' to determine knowledge levels about Australia's connection to other countries – Provide students with a question and answer sheet that they will complete as they move around 10 stations. Each station has a visual prompt relating to a different idea of global connection. Students have four minutes at each station and identify the prompt they know least about.
Other Activities: Watch "Global Connections" video on ClickView; Read"Around the world by lunch"; CDRom -"The Global Village" (oral activities)
IMMERSE: Students discussed Article 25 of The Universal Declaration of Human Rights and recapped the importance of Australia's role in providing aid and humanitarian support.
Students then selected an organisation and drew its logo with a description of its elements and meaning.
Using a scaffold "Making the Choice" to gather information on a number of organisations they read widely and took notes, discussing findings at specific points with the teacher and each other.
One student with dyslexia was catered for when Catherine decided to bring in her own Mac computer to give the student during lessons so that she could use the 'Text to speech' function. This student managed better than ever before, could listen to sites about organisations – and was so happy!
Links to all the organisations selected were put onto a Diigo sites and used from the class Edmodo learning platform. Students also enjoyed sharing sites they found.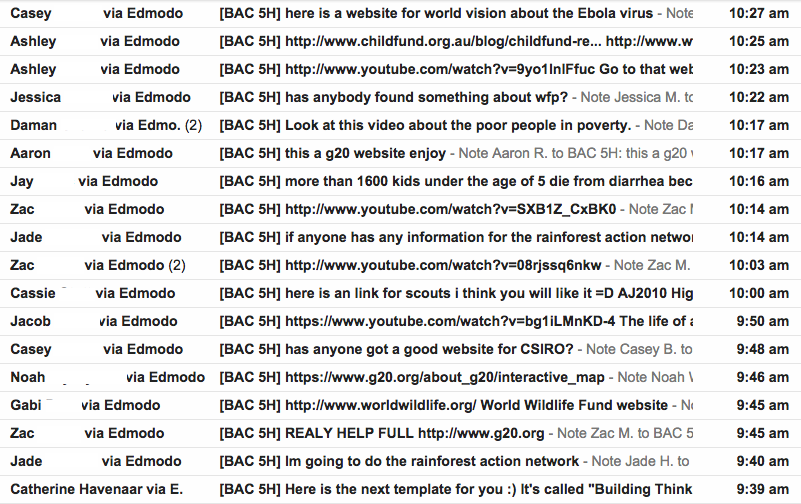 EXPLORE: Students determined an organisation to research and read widely from Diigo links, books and subscriptions such as online encyclopaedias and Skwirk.
Scaffolds were provided for recording information and the questions they raised about that organisation.
IDENTIFY: Students wrote a research question (with help from the teaching team) to focus their exploration and four contributing questions which were placed into a jigsaw scaffold and/or a mind map.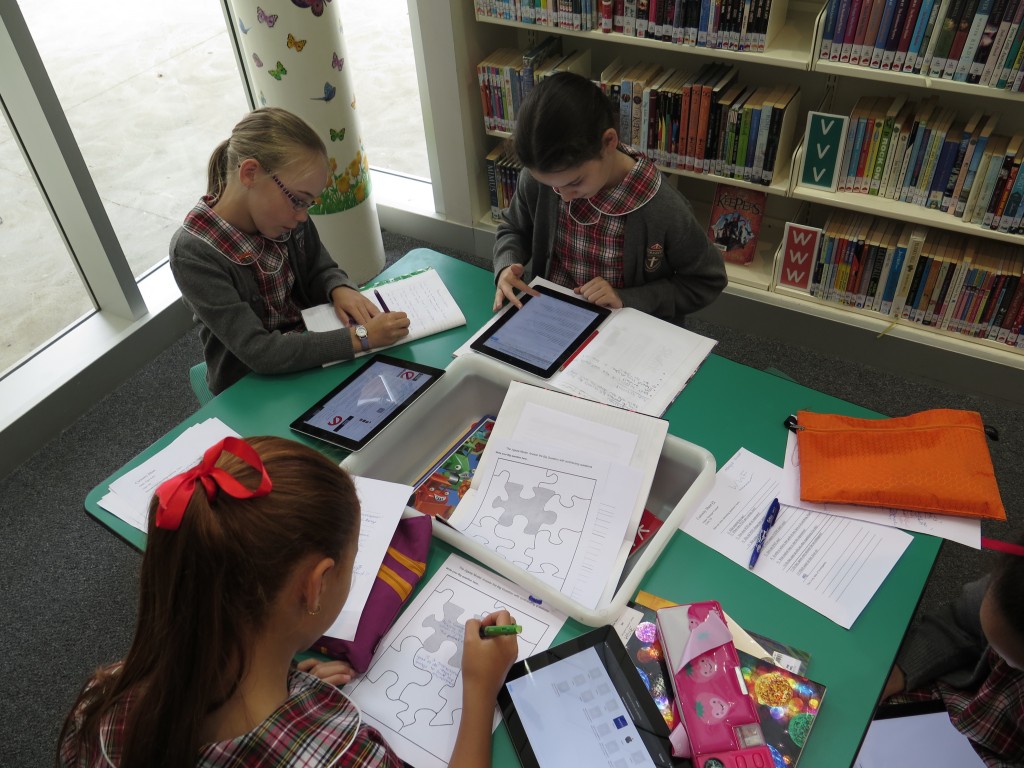 GATHER: Answers were gathered in their books and throughout students were assisted with aspects of information literacy by the teacher librarian – everything from determining best sources of information to writing a Bibliography.
CREATE: Now for the real fun! This is a prime example of students working in the 'Third Space' and where they all just blossomed.
Students created an organisation of their own based on the tenets of the one they had been researching. They had to create a name, logo, slogan, aims, goals and a script for a one minute infomercial which featured the student introducing their agency. Because they had selected an organisation originally based on their own interest we had organisations created for everything from wildlife conservation to soccer. This also integrated their Visual Arts and Writing programs. (see program : http://guidedinquiryoz.edublogs.org/practice-2/primary-guided-inquiry-units/)
Catherine and I had a discussion about how she could be involved in a fun way to model their tasks. It was decided that she should create the overarching organisation with which the students all had to register their created organisations! After a lot of thought and laughter we came up with OREO: Office of the Registry of Earth's Organisations. A logo was created and Catherine made her own infomercial as an example for the students.
See it here: https://vimeo.com/192400121
SHARE: A Global Summit was organised to which all parents, the Head of Primary and the Principal were invited…
In groups of five the student's infomercials were played. Each group then entered to sit around the OREO table dressed for their role in their organisation. Parents had been given prepared questions to ask and the students, in a very professional manner, stood and answered for their organisation.
Morning tea was served to all and of course there was a distinct Oreo theme!
A large number of parents and grandparents came to the OREO Summit:
Here they are watching the 'Infomercial' videos the students made for their created organisaton. (Note their Logos on the wall!)
But a unit of work does not end with Share!… We conducted evaluations of students and the teaching team but also were surprised to receive a number of feedback comments from parents.
Stay tuned for the Evaluation blog and some links tomorrow. Finally I will reflect on a few more GID experiences towards the end of the week.
Alinda Sheerman – Broughton Anglican College, Menangle Park (75 km south west of Sydney, Australia)