For my final post this week, I will talk about the specifics and how the GID process worked beautifully with the Bulldog Brilliance Lab project.  Recall that the project this class did was to create a lab with video recording and editing equipment and materials for creating.  As I have already stated, I believe that GID is appropriate for all types of learners. This is important and was particularly key because the students in this middle school class ranged in grades from 6th to 8th with varied academic abilities. The flexibility of GID supported this diversity perfectly!
The initial planning work on the Bulldog Brilliance Lab took about 4 weeks.  The guiding unit question was 'How does creative expression impact the world" and integrated standards from language arts, math, social studies, information literacy, and art. The unit started by bringing students together to discuss what they thought they could do with a lab where they would be allowed to create. Students shared their ideas and visions through a shared writing experience thinking about how this might impact their learning.  To Open, as a group the class looked at student created videos and brainstormed what was necessary to create an actual video.  Open was really an inquiry group activity where students shared freely.  Immerse was a fantastic field trip to the high school to visit the Video Resource Center (VRC).  The VRC is a production studio offering classes in media production.  The VRC also manages the District TV channel showcasing footage about events in the district and happenings at the school sites.  It was a perfect place for our students to learn firsthand about what equipment was needed.  As noted in my second post this week, there was also emotional benefits for our students because of them 'finding their place at the high school' making the upcoming transition so much easier.  The field trip also motivated students about the project and they came away with great ideas and a new-found confidence. Explore was done primarily through online resources simply because pricing for equipment could change quickly and the available print resources were limited. This provided the perfect opportunity to really strengthen skills for evaluating web sites!  Using resources curated and organized in Google Docs and websites the students located, they learned more about video equipment, labs, creating stations, and fab lab options.  Identify was somewhat collaborative because students naturally divided and focused on the equipment and the part of the lab that interested them most. There's that flexibility again – thank you GID! The students consulted another expert from the Computer Lab/Technology Center from the public library to further identify possible equipment and as they Gathered information, it was maintained on a collaborative Google Spreadsheet (see image below). Information included was the name of equipment, pricing, quantity and where the item could be purchased. In this phase, there were several inquiry group discussions about the equipment specifications and the students had to justify why they choose one model over another.
Image 1. Collaborative Google Spreadsheet for Equipment Budget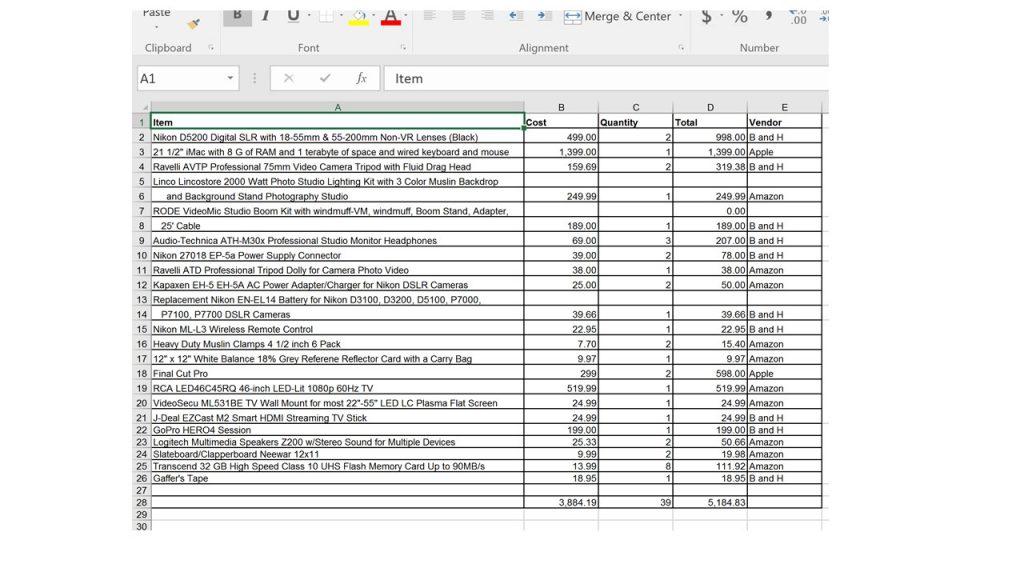 The Create piece of the project was to work as a team to develop presentations that could be shared when seeking financial support.  In this phase, discussions about presenting etiquette was covered. Students recorded themselves using old Flip Camera's and what we found was when students watched themselves, many of them said 'I need to practice more'. Talk about a chance to practice writing and speaking skills!  Sharing was done through presentations and grant writing where students contributed to the final presentation and work.  Students could not be at all presentations and any grants written had to be done through the teachers.  None-the-less, student input was invaluable because it was their vision and work!  Although we did not get the funding to buy new equipment, as the project was Evaluated using 'what worked, what did not work, and what would you change next time' questions, students shared that they were proud of their work and recognized that not everything gets funded.  Another really great learning opportunity.
As noted in my earlier post, the lab became a reality through donated and repurposed equipment.  Once that happened video and creating activity was somewhat ongoing. Here are some pictures of student work and production on a promotional video they created for the Pennies for Pasta campaign.  (Pennies for Pasta is a fundraising effort to support The Leukemia & Lymphoma Society.) For this video students created a storyboard and plan to include as many teachers and students in the school as possible – of course only those that wanted to be front of the camera – and then collaboratively wrote the script.  In this project, it was so great to see the camaraderie happening between students.  Some students did not want to be in front of the camera so they opted for 'behind the scenes' roles and they cheered each other on through the completion.  Because we did not get new equipment, the class partnered with the VRC so they could use really good quality equipment for recording and to learn Final Cut Pro for editing.  The video aired on the school channel and we were so proud!
Image 2. Pennies for Pasta Storyboard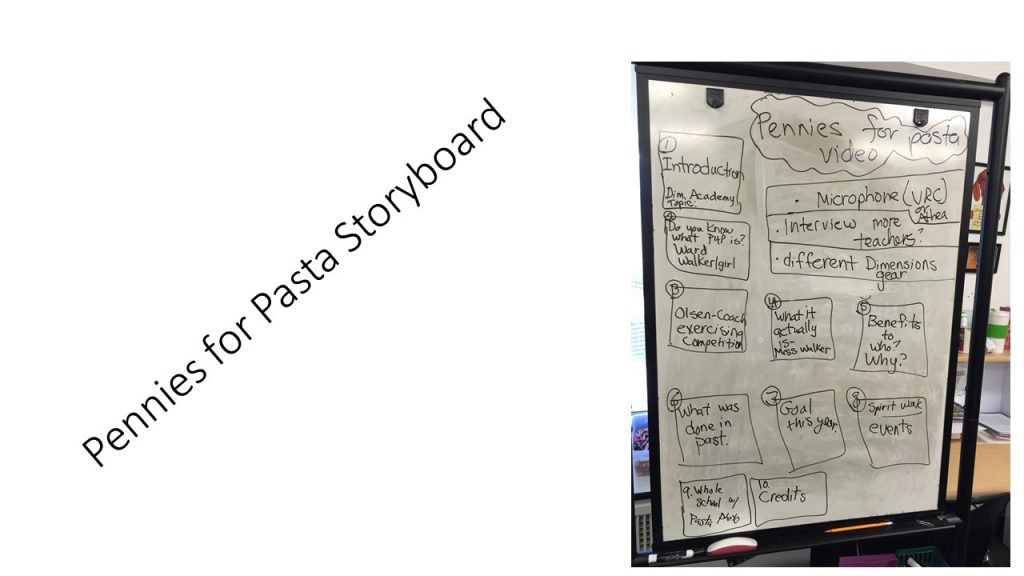 Image 3. Collaborative Google Slides writing video script
Image 4. Student 'interviewing' cook for video
Image 5.  Recording footage for video in Bulldog Brilliance Lab
We observed growth in students in their self-confidence, their ability to use information in an authentic way, their ability to work collaboratively to solve a problem and share information, and their improved overall behavior- and this is attributed to the GID process.   To bring this all back around I believe deeply that GID is for all learners and that it provides natural learning scaffolds in every phase no matter the academic ability of the student.  By the way, I also believe that GID is great for special education students – but that is perhaps the topic of another week.
I hope you enjoyed reading my work and feel free to contact me if you have any questions. As I close my blogging for this week it is with great thanks to Dr. Leslie Maniotes for this opportunity. This is a fantastic chance to reflect and share and I am so glad I did it!
Buffy Edwards, PhD, MLIS
Energetic Educator and Online College Professor
drbuffyedwards@gmail.com, buffyedwards@sbcglobal.net
@nd4buffy