Hello Again, Guided Inquiry Community! I'm thrilled to be back! I'm Paige Holden, teacher of Language Arts at Whittier Middle School in Norman, Oklahoma. I posted at approximately this time last year about my first ever GID unit, Natural Phenomena, and I'm just as excited to share my second unit, World War II and the Holocaust. But first, a little about me, my school, and my experience with Guided Inquiry. Here I am!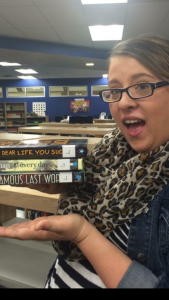 I've been teaching for five years, all at WMS.  While teaching Language Arts, I have also taught exploratory classes in Reading Intervention and Reading for Pleasure.  My very favorite thing about teaching is sharing my love of books and reading with my students, and helping many of them discover their inner bibliophile. I'm also crazy about my school.  Whittier is the largest of Norman's four middle schools, with a little over eleven hundred students (one hundred twenty of whom are mine!). Of those, around thirty percent are eligible for free and reduced lunch, fourteen percent qualify for special service, forty percent are considered gifted, and four percent are English language learners. With such a diverse group of learners, I'm so lucky to work with the MOST amazing teachers. My colleagues are brilliant, patient, open to new ideas, and deeply committed to providing each of their students with the best learning experience possible- which is why Guided Inquiry is perfect for our school.
As I mentioned earlier, this is my second unit. I was originally introduced to Guided Inquiry by my bevy of librarian friends (affectionately known as the Think Tank of Awesome). Their happy hour tales intrigued me, and I attended my first training with Leslie in the fall of 2015. Our team was made up of two eighth grade Language Arts teachers (one of them was me!), our gifted resource coordinator, our instructional coach, our librarian and library assistant. Together, we planned and executed our eighth grade research unit.  Then, in the summer of 2016, I was lucky enough to attend a second institute, this time with my longtime teammates and loves of my teaching life, Leah Esker and Adrienne Hall. We were also joined in the fall by the lovely and talented Kasey McKinzie, who was very brave and went to the fall training by herself. This year, we wanted to do better.  We wanted to embed the inquiry process into our existing curriculum, to make research less of an event, so to speak, and more of a natural way to learn, because that's what it is!  When we sat down to choose a unit to overhaul, we knew we needed one that generated a high level of curiosity amongst our students, as well as one that could lend itself to potentially endless avenues of inquiry. For those reasons, we chose World War II and the Holocaust.  I can't wait to share it with you, as well as some other great things my fellow Whittier teachers are doing with Guided Inquiry. Stay tuned!
–Paige Holden