by Cindy Castell
Norman Public Schools is experiencing a year of great change.  From the previous sentence, I would like to emphasize the word GREAT.  Change is happening in all kinds of ways.  Our buildings have all been updated and are fabulous learning spaces, and we have implemented our 1:1 technology initiative in grades 6-12 in addition to having 4-5 devices in every elementary classroom. This is thanks to our citizens overwhelmingly passing bond issues and to the vision of our district leaders.  
So I mentioned in my Day 1 post that I have a new job this year.  I am one of the six new I Tech Coaches.  Each of us is assigned to one secondary school where we are housed and 3 elementary buildings.  Overall, our main purpose is to help teachers integrate technology in a way that transforms learning from the traditional. From the NPS ITech website, "In the past, students attended school because that is where information was found.  Today, technology has made information accessible anytime, anywhere and offers vast educational resources for learners." So even though NPS has not been a "sit and get" district for many years, people like Kathryn Lewis, Director of Media Services and Instructional Technology, have researched and sought out programs that will help our students.  By using the research-based ISTE Standards,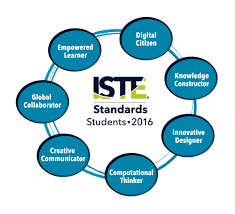 Kathryn and other leaders in our district wanted to support students and teachers with sound practices.  The SAMR Model was also instrumental in setting the goals NPS had for technology.  They did not want the new computers to be just a substitution of what we were already doing, but instead a "transformation" where students are asking their own questions, collaborating with others, and sharing their learning with a broader audience. SAMR model explained: https://www.youtube.com/watch?v=us0w823KY0g
So this year and in the years to come,  we have the opportunity to help teachers design and implement lessons that integrate technology in a way that transforms learning.  Guided Inquiry is one of the best models to do that with. We are thrilled that as Instructional Technology Coaches,  we get to work with our librarians to be part of the extended team.  We are off to an exciting start.  Even though Guided Inquiry has been going on in our buildings since 2015, we now have information, experts, and ways to communicate our learning right at our fingertips.  I am again grateful for how Guided Inquiry will play a major role in how our students across the district will use the technology.  We hope that districts around the country have the opportunity to share Guided Inquiry with their students.  We know that it will benefit all of our learners as they move through their education and their lives.