I don't know if you are a fan of New Year's resolutions, or if you're more of a #oneword2018 tribe member—but nonetheless, with this new year comes new experiences, ideas, and connections, intentional or not. One of the intentional experiences I've set for myself this year is to put more of my own ideas into motion. For some ideas, that means tinkering with them and seeing where they go; for others, it entails sharing them so that they can grow, expand, and evolve as they interact with other ideas, creating new connections and likewise new ideas—"and so on, and so on, and so on," in the words of the classic 80's Faberge Organics commercial I was so nostalgically reminded of while watching the latest season of Stranger Things. (Those of you old enough to know what I mean get the reference, even if you aren't a ST fan 🙂 )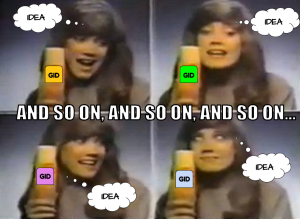 With that said, I am happy to introduce myself and share my experiences and ideas connected with Guided Inquiry to this GID community, expanding my own ideas and connections in the process. My name is Teresa Diaz, and I am currently a teacher-librarian at "Tex" Hill Middle School in San Antonio, Texas. Home to the iconic Alamo and the Spurs basketball team, San Antonio's rich historical past and vibrant cultural heritage make it not only a top spot for tourism but also for professional conferences, including ISTE in 2017.
"Tex" Hill Middle School is one of 14 middle schools total within a large district of nearly 67,000 students. Serving grades 6-8 with 1100 students, my campus reflects the diverse ethnic and socioeconomic demographics of our school district and of San Antonio itself. I've been at Hill since it opened in 2014, starting the learning commons from the ground up. Opening a new school can be challenging, but has offered me the chance to brand the library space as a learning commons and set the tone for learning among the students, teachers, and staff from day one.
Now in my 20th year as a school librarian after starting out as a high school English teacher, I've worked at both the HS and MS levels in Providence, Cambridge, Houston, Austin, New York and my hometown of San Antonio. Through these experiences I've learned of and experimented with myriad philosophies and methods, such as the CES Common Principles, Essential Questions, the integrated team model, Understanding by Design, and PBL, along with more recent approaches like Design Thinking, Genius Hour, and Flipped Learning. Woven throughout all of these instructional permutations is the ever-present Information Literacy thread that us fellow librarians know to be one of (if not the) most essential elements to developing thinking and learning among the young people we teach, now more than ever.
At my previous middle school campus, I also developed an information literacy strand embedded within a campus-level overhaul of 6th grade study–skills elective AIM ("Academic Individual Motivation") which aimed (no pun intended) to teach essential technology applications along with other digital skills needed in their core content-area classes.
Like most of you, I've tried various Information Literacy (IL) and research process models too, like the Big 6 and MacKenzie's Research Cycle. But finding them lacking, I came across Dr. Carol Kuhlthau's ISP model on my own, hoping to find a better framework to use with students. It was then in the spring of 2012 when my district's Library Services department gave each librarian a first edition copy of Guided Inquiry: Learning in the 21st Century and the then-newly published Guided Inquiry Design as the designated alternative for IL/research process instruction that I became a GID practitioner and advocate. Some of my fellow librarians attended the CISSL Institute that following summer, and shared their experiences through pilot projects on their own campuses, followed by homegrown district-level GID summer institutes in 2013 and 2014.
Starting in 2012, I've been piloting my own permutations of GID, specifically through the Technology Innovations Project (2013 version) as part of the 6th grade ACL (Advanced Contemporary Literacy) course, a pre-AP level reading class designed to heavily incorporate the research process as part of its scope and sequence. Since that first iteration, the Tech Innovations project has evolved at Hill to reflect a merging of GID with Design Thinking and PBL, and I am sure this year will continue to change just like technology itself does.
Along with this signature GID project, I've been lucky enough to collaboratively incorporate GID into other pre-existing and newly designed research-focused projects across all three grade levels, most specifically in reading and English. The most recent GID projects involved a cross-curricular exploration of World War II and the Holocaust to defining and demonstrating Creativity.
Throughout my own evolution in using GID in tandem with other models and approaches, I have come to see the beauty in recombination. As Leslie so aptly shared in her introductory post about the interconnectedness of things in connection with sharing our practice of and excitement about GID as a change agent in education, I found that what makes GID such a strong process is its inherent ability to connect to and leverage other specific strategies and models to augment its own strength as an overarching framework.
With this in mind, my next post(s) will share how one of my favorite tools, the Question Formulation Technique (QFT), beautifully weaves into various phases of the GID framework. My final post will most likely be a reflection on/exploration of the power of embedding the QFT and other strategies within GID, as I continue figuring out how to make Information Literacy both an embedded and overt facet of my own teaching approach with today's learners.
And to reconnect with my initial intent of putting ideas into motion, I welcome connecting with you online about your own experiences, permutations, and ideas regarding GID and related strategies that work towards making Information Literacy relevant. Feel free to reach out to me on Twitter (@teresa_diaz) or via this blog. I also blog intermittently at Curious Squid, if you feel like reading a bit more of my own observations and reflections on learning "in real life."
-Teresa Diaz