"Vulnerability is the birthplace of love, belonging, joy, courage, empathy, and creativity.  It is the source of hope, empathy, accountability, and authenticity…"
–Dr. Brene Brown, research professor/author
Happy Summer!  My name is Kathleen Stoker and I am a high school English/Journalism teacher.  I teach in a small town 40 minutes west of Boston, MA.  I am beyond grateful to say I have been part of the GID community for more than a few years now.  I believe this is my third time guest blogging for 52GID–and it is in this round that I have come to the realization that vulnerability is an integral part of the GID process–for both the educator and the student.  The aforementioned quote by Dr. Brene Brown sums up my professional and personal experience as an educator leading my students through the GID process in my senior seminar Psychology in Literature.  In this post, I will share how vulnerability was also a critical part of my student's experience.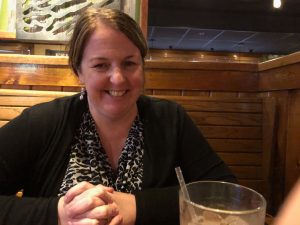 Every semester my co-educator and librarian Anita Cellucci (@LibraryWHS) and I embark on GID with our students, I feel excited, anxious, and well–vulnerable.  To go through GID with students is to be vulnerable as an educator because I don't know what my students will choose to explore.  I don't know everything (and sometimes anything) about what information they will gather.  I no longer have any perceived control that traditional research assignments could have–and guess what?  I LOVE the freedom that comes with the vulnerability in GID!
In the last weeks of the course, we ask our seniors to reflect in the OPEN, IMMERSE, And EXPLORE stages of GID on what they have learned over the semester in our class.  The course is filled with different types of literature that help students to destigmatize mental health, incorporate positive psychology into their daily lives, and navigate their own personal experiences.  Students IDENTIFY a topic of their own choice with guided support from Anita and me and then students move into their GATHER stage.  Of course there is a lot that happens within those beginning stages…
In Leslie Maniotes book Guided Inquiry Learning in the 21st Century (Kuhlthau, Maniotes, and Caspari, 2007), there is a section labeled "An Important Discovery" (17) in which inquiry is defined as "initiated by someone who has something that needs investigation, a fundamental question, pressing issue, or troubling problem that requires further information."  This definition directly applies to one of our students named Samantha.  I have Samantha's permission to share her story as she hopes that other educators and students will see the benefits of the GID process.  Samantha truly needed to investigate a pressing issue that was as personal as it gets…
Two weeks before school started this year, Samantha and her family tragically witnessed her uncle drown during their annual family vacation.  They also witnessed the near death of Samantha's younger brother and her cousin.  The trauma that Samantha and her family suffered was profound–to say the least.  Samantha entered our senior seminar in shock and in grief.  She never thought she would enter her senior year mourning the loss of a beloved one.  And the irony was that the first book I teach in our course is Ordinary People (Guest) about a boy who witnesses the drowning death of his brother.  Upon Samantha and her mother sharing with a guidance counselor what they had just experienced, we decided to meet to discuss the course's content.  Samantha decided to stay in Psychology in Literature; our hope was that the course and our classroom would offer her a safe space to experience her grief.  She would also see our school adjustment counselor on a regular basis.  We decided that she would read an alternative text and would stay in daily class as long as she could when we were having class discussions.  Anita offered the library as another safe space that Samantha could spend time if class conversations hit too close to home and became too overwhelming.
Anita and I watched and supported daily as Samantha would sometimes choose to go to the library to work independently or would stay to endure a class conversation on grief, family trauma, depression, the pros of therapy, etc.  We observed as Samantha time and time again showed courage and perseverance to sit in her own grief, discomfort, and pain.
Flash forward to the end of the semester when we started GID, I can remember being overwhelmed with emotion as Samantha worked through her inquiry question with Anita and shared it with me:  How does experiencing a traumatic event affect a person psychologically and physically, and what are coping mechanisms and treatment options? Samantha was at a space in her grief process that she was able to truly explore and to research what she had been through and was going through.  
Later in a reflection on the GID process, Samatha answered this question.
Describe the process of how you developed a specific topic within the inquiry question?
Based on what had happened over this past summer, I was very interested in what trauma really was and what mental illnesses can happen because of experiencing trauma. I was also interested in what treatment options were most effective. I first thought of researching one specific treatment that I had known of, but thought that this topic would be more broad and I could always add in the treatment option…
Samantha dove deep into her research; she often wanted to be left alone to do her research, which was part of her grieving process.  Anita and I continued to support her, but we also knew she needed time to research and time to digest how close the research was to her personally.  Samantha learned that she was experiencing PTSD and was feeling depressed as a result of the trauma and profound sadness she was feeling at the loss of her uncle.  And she also learned that building resilience was a way to persevere through her trauma–and that is what she had been doing all semester–building resilence. In the CREATE phase, Samantha created a google slide show of her research findings.  The last slide is resilience in which she shares the definition:
Resilience is the ability to adapt in a healthy way in order to become strong in the face of trauma, adversity, tragedy, severe stress, or difficult life-changing events

This generally refers to the ability to bounce back from stressful, traumatic, or tragic situations such as divorce, death of a loved one, loss of employment, having a parent with a mental illness, or experiencing abuse  
Samantha went on that semester to run a half marathon that she had planned to run before her uncle's death; she had wavered as to whether she should do it and then decided he would have wanted her to.  Samantha was able to go to her most vulnerable place that semester; the courage she embraced to feel her feelings, to explore the trauma she was experiencing, and to learn the power of resilience truly showed how powerful the human connection can be.
Reflecting back on that teaching experience, I truly believe to have the space, time, and methodology through GID was an empowering vehicle for Anita and me to support Samantha.  Throughout the process, Anita and I had frequent conversations as we were feeling vulnerable in wanting to make sure we were guiding Samantha.  The keys were our check-ins with Samantha, Samantha's mom and I emailed each other regularly, and Samantha was receiving professional support.
On the last day of school, Samantha came in to say good-bye.  She gave me the most beautiful card and thanked me; and yet, we educators know–we often find ourselves thanking our students for the journeys we walk together.
Kathleen Stoker
Westborough High School
Westborough, MA
@stokerkathleen