Hi Happy GID followers!
We're having summer here in the US and lots of professional development in GID.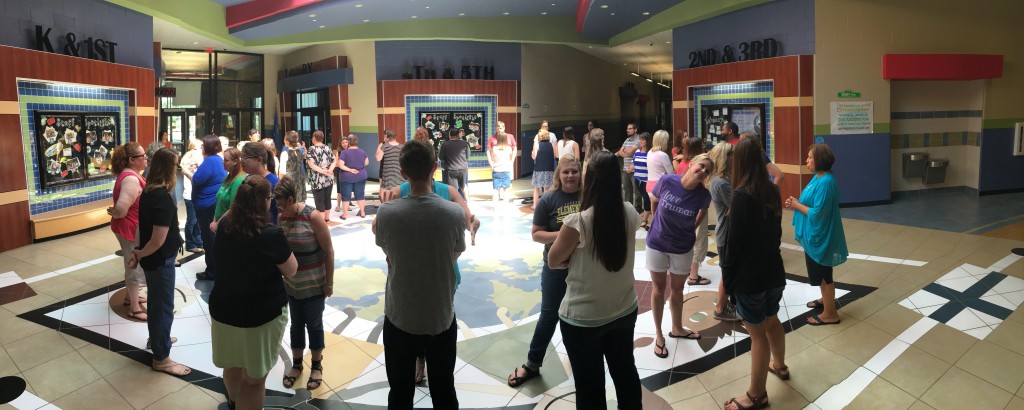 As I mentioned in my last post, this week was the fourth GID institute in Norman Public Schools. Because of the size of this district and the way Guided Inquiry requires a collaborative team, the librarians at each school have attended one GID institute this year.  But because many have teachers who now want to join the fun, the librarians are attending the institute a second time to come with their teachers so they can participate as a collaborator.  As you all know, we believe that the school librarian has a critical role to play in the Guided Inquiry Design team.  She is the information specialist/professional as well as the information literacy teacher.  These are two cornerstones to GID a. that information literacy is valued by all team members and taught (Kuhlthau 2004) and b. when students are locating, evaluating, and using information to learn, the information specialist is a key player.
Since the librarians (and one English Language Arts teacher) had already attended the full institute, and implemented at LEAST one unit of GID this year (some, like Kelsey Barker had implemented 5) the leadership in the district and I felt like it was time that we could build capacity in the district to develop coaches for GID.  (I have to take time to acknowledge and thank these amazing leaders who have done everything to implement GID at the highest level, without them NONE of this would be possible, Kathryn Lewis, Shirley Simmons and Beth Fritch.)
In the institute teachers in collaborative teams design a unit of study.  By doing that, they engage in the inquiry process themselves as design requires you to identify the concept of the unit prior to determining the activities that would support students to arrive at their own questions around that concept.  So, teams are going through their own inquiry during the institute. We know that all people going through inquiry can use guidance, and that the strategy of conversing is a support to the process.  Maybe stemming from my background of five years as a teacher effectiveness coach in Denver, I have made coaching an integral part of the GID institute. Typically, I coach each teams during the institute on their units to help them stay on track, answer any questions and push their thinking to move beyond their known ways of doing things.  This institute included double the number of teams than I could handle coaching in the time we had. So, we decided to have the librarians who had been through the training before get some further training on how to coach teams and then give it a go in this institute.
As a result, this wonderful energetic and brilliant group of librarians who have now proved their accomplishments with the process and implementation of GID took on the role of coach in our June 2016 institute.  I want to thank them for their dedication, passion for the work and professionalism in learning with me and coaching their colleagues.  This is the beginning of something bigger and growing GID to help districts build capacity in the future.
Each district might have a different way of handling this, but for me, it is exciting because I think that the role of coach is another great role for librarians.  They are already really good listeners, and work with so many teachers, so collaboration and leading collaborations is natural to them.  Also, as they use the process over and over with different grade levels and content areas, the GID process begins to become internalized, and that is what you really need to understand well in order to coach a team in GID.  I'm excited about the prospect of GID coaching, and this stellar group was a wonderful place to start. Here's a picture of our first GID Coaches!  There will be more trained in July.
I mean come on! Aren't they great?!  Here we have (L->R) Kristin Lankford, Dana Phillips, Martha Pangburn, Paige Holden, Kelsey Barker, Lee Nelson, Buffy Edwards, and Stacy Ford.  Kudos team!  What a pleasure it was to work with you all!  Aaaaand…
As a result of their coaching, we had 20 excellent prototype units come out of this week's institute.  10 at the elementary level and 10 more that the secondary level.  Typically an institute can only handle 10 units, so these educators efforts doubled the impact of this professional development for Norman Public Schools!  Kudos!
The Celebrations and presentations of the units were fantastic.  More on that in my next post!
Leslie Maniotes, PhD
Co-Author of Guided Inquiry, Trainer of Guided Inquiry Design