Greetings fellow Guided Inquiry Design fans!
I'm Kelly Ray, a Library Media Resource Teacher with the Office of Digital Learning at the Baltimore County Public Schools (BCPS). It's my pleasure to share again this year about how GID is transforming student research and inquiry-based learning in BCPS, the 25th largest school system in the U.S. and 3rd largest in Maryland. Please visit my June 5, 2016 post on this blog, GIDesign @ BCPS: Our Journey Begins, where I shared how BCPS first began using GID in 2012 after attending the CISSL Summer Institute at Rutgers. In that post, I described how BCPS has been using the GID model to structure our Online Research Models (ORMs) for extended, in-depth research across the curriculum; we have also been trying to incorporate some elements of GID (such as Third Space) into our Slam Dunk models for brief, focused research (a model from Dr. Jamie McKenzie that we adopted in 2004).
We will continue to use GID this month at our annual BCPS Summer Curriculum Workshops, where a team of our library media specialists will collaborate with content curriculum writers to design new Online Research Models and Slam Dunks aligned to various content curriculum units. Have a look at the first ORM we designed using GID in 2012, An American Student in China (High School World Languages), which is used by students who visit China to complete the required research component for our BCPS Chinese Cultural Exchange program. See also an Elementary example, Act Now, Supplies Limited! (Grade 5 Library Media/Science) and a Middle School example, Native Dreams: Contemporary Native American Music (Grade 8 American Music) which was created in Summer 2016. Our BCPS ORMs and Slam Dunks were showcased at last week's 2017 ISTE Conference at the Librarians' Network Playground: Information Fluency, Creativity and Innovation.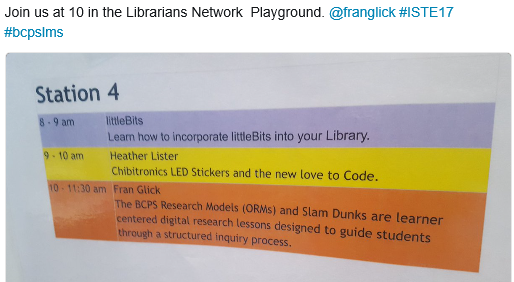 As you may have heard, BCPS was named the 2017 National School Library Program of the Year by AASL! Our system-wide use of Guided Inquiry Design was an important part of the body of evidence that earned us the NSLPY award. As our Superintendent said in the Award announcement, "… through collaborating with other educators or working directly with students, our school librarians help students gain in-demand 21st-century skills including constructing meaning through research, problem solving, creativity, and communicating new knowledge." Accepting the Award at the 2017 ALA Annual Conference on June 24, our Coordinator Fran Glick explains in this Knowledge Quest blog post how our school library programs continue to evolve along with BCPS's multi-year transformation of teaching and learning known as STAT (Students and Teachers Accessing Tomorrow). As a student-centered inquiry model, Guided Inquiry Design has been a natural fit with our school system's broad instructional transformation.
We are fortunate to have a certified library media specialist at every elementary, middle and high school in our large school system. In addition to implementing the Online Research Models in collaboration with their teachers, our school librarians have received professional development on GID and are encouraged to co-design their own projects. At the beginning of our GID journey in 2012, we purchased a copy of Guided Inquiry Design: A Framework for Inquiry at Your School for every school library. Our 160+ K-12 school librarians engaged in a year-long book study, sharing ideas and strategies for using GID at our quarterly professional development sessions. Recently our office has purchased the Guided Inquiry Design in Action books for both Middle School and High School; both books are a treasure trove of GID lessons and implementation ideas! We will be using resources from these great books as we design new Online Research Models and revise existing ORMs at this year's Summer Curriculum Workshops; we are particularly interested in incorporating some of the excellent tools and strategies for student collaboration, reflection, conferencing, and assessment found there. We also plan to use lessons and resources from these books at our 2017-18 quarterly professional development sessions for secondary school library media specialists, as they work to refine their practices for planning and facilitating learner-centered instruction aligned to the AASL Standards for the 21st Century Learner. We are anxiously anticipating the release of the revised AASL Standards at the 2017 National Conference in November, and confident that there will be many points of alignment between the new Standards and GID.

In my next post, I will share more examples of how GID continues to transform teaching and learning in BCPS.
Kelly Ray