I mentioned in my first post this week that I've been traveling a little and seeing GID in action.  One place that I had the pleasure to visit was Saint George's School in Vancouver British Columbia.  You've heard about this school already from a member of our GID family, Marc Crompton.  I went up there to visit, this March, to work with teams refining GID units and developing and designing new ones. As always, I learned so much from these conversations with teams. We talked about what kinds of questions kids should ask, and how to coach students to ask better questions. We thought together about problems of student motivation and connections to the unit design. We had great conversations about the role of student reflection across the process, when there was enough reflection and when there might be too much. As well as how to find that sweet spot in the Inquiry Journal prompt. One prompt that was super successful for them was in the Evaluate phase where students wrote a reflection giving advice to the students of the next year.  The kids couldn't wait for the teachers to read these entries. There are so many elements and moving parts to Guided Inquiry learning where we can all learn and sharpen our practice.  For me it's a great joy to be with smart educators and think through these issues.
I was so happy to come to St George at a time when they were having the SHARE for one of their big units of inquiry in Grade 7.  In the Grade 7 Neighborhood they were holding the great annual WONDER EXPO!  It was the conclusion of their wonder time which was a long term work leading up to a science fair.  Many of these traditional contests like science fair can be so much improved if GID is used to consider the instructional design that wraps around these experiences. (You can imagine that in order to arrive at the science fair topic, the students could greatly benefit from the first three phases of OPEN IMMERSE and EXPLORE to IDENTIFY that question.) This team has recognized this powerful connection and they continue to shape this experience using the principles and phases of Guided Inquiry Design as a guide.
During the Wonder EXPO, I had the great opportunity to connect with students and hear their depth of learning and third space connections.
This young gentleman on the left had found a way to use light to detect oil and gas in the water.  He believes that if everyone was required to have such a light on their boat engine they would be able to detect spills and avoid them much more regularly.  This student is a huge advocate for Guided Inquiry, and confessed that although he loved the experience, not all students enjoyed it.  F
r the Wonder time, the learning was balanced between open time and some structure around the process.  Some students were able to benefit well from the open time, and others weren't able to use the time as well as others. This is a common problem we face with prolonged open work time.  Some students need more structure while others are ready to go.  It's always a challenge to find that perfect balance between guiding and freedom to meet every student's learning needs
The boys on the right had this interesting experiment and research on how taste buds change over time. They claimed that young children tastebuds generally favor sweet flavors and bitter tastebuds develop later in life.  Their tri-fold had clear concise writing for each phase of the science inquiry and they were each able to speak using academic language to describe the research that they did, explain their results, as well as possible implications.
My question to the boys as I walked around was, "And so, what do you think are the implications for this research that you did?"  It was interesting to hear how the students each could extend beyond the project and theorize about possible impacts.  In every conversation, I could hear the third space connections as students explained why they chose this topic.  If you're interested in more of what they did, you can see many more photos on their twitter page.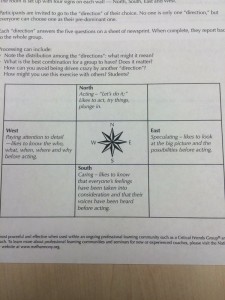 They did have a vote and prizes as well as a big celebration!
As I mentioned before, at Saint George they are really working on student reflections across the process with the focus on "learning how to learn" through inquiry.  The Grade 7 Neighborhood even tweeted out this picture (Right) of the reflection they had for the Wonder Expo. Using a four corners exercise, the students reflected on different modes of thinking and which mode was the students preferred method.
The next day, I had a chance to speak with the team who designed and implemented this unit.  This fabulous team was truly interdisciplinary and includes the literature teachers, drama, science, social studies and their wonderful librarian. And like so many with Guided Inquiry, they still felt as though there were changes that could be made. Even with an extremely successful unit and SHARE event, great Learning Teams know there's always more learning or something to be tweaked!  It was so fun to be with them and celebrate all the successes, and then reflect on Wonder EXPO for next year.
To sum up our conversation there after talking through it all the Science teacher recognized that although the traditional science fair has it's drawbacks, they still want students who are interested to be successful enough to enter the local competitions. This meant that they would continue with the same format because to enter the competitions they had certain requirements to fulfill (Tri-board with specific elements present, research, experiment, data, results, etc). But when nudged to think about what makes every science fair above and beyond, the science teacher recognized the important element that the project helps humanity. And so it was, that next year's focus for WONDER would not only include all the elements of a really well guided science fair project using Guided Inquiry Design process, but in addition, it would have the theme around "How does/can science help humanity?" Using this as the big idea for the unit has promise to impact all students projects to think beyond the experiment and into the world.  I'm really excited to hear how they progress and how that supports student engagement as results.
Thanks to all the excellent educators at St George for working with me and allowing me to continue to coach you on your design processes across the grades.
This wraps up my week of reflection- I'll see you all again in a few months. Until then, keep on enjoying all these amazing reflections on practice!  I know I am!
Leslie Maniotes, PhD
Author of
Guided Inquiry Design
Guided Inquiry: Learning in the 21st Century
Guided Inquiry Design in Action: Middle School