As we begin our fifth year of using the GID model for student research and inquiry in BCPS, we have some goals for expanding and enhancing its use, and some challenges to address. Our district has in the last few years embarked on a digital learning model supports transition and ongoing 1:1 device rollout called S.T.A.T. (Students and Teachers Accessing Tomorrow). The GID model we use to design our Online Research Models (ORMs) for extended, in-depth inquiry supports the S.T.A.T. initiative's focus on critical and analytic thinking and personalized learning in a blended, learner-centered environment. We anticipated that there would be more opportunities to incorporate our Online Research Models into curriculum across grade levels and content areas in conjunction with S.T.A.T. Instead, in recent years there have been fewer requests for ORMs from content curriculum offices/writers and an increased demand for brief, focused research tasks. (BCPS adopted Dr. Jamie McKenzie's Slam Dunk digital lesson as our model for brief, focused inquiry in 2004; these are labeled "Slam Dunk" on our Research Model index). One reason for this may be the PARCC assessment, and a tendency to target only those research skills that will be assessed on the standardized test. We know that students need to develop a broader range of skills aligned to the AASL Standards for the 21st Century Learners and other 21st century learning standards—not only for "college and career readiness" but for life. Another reason is time—the Slam Dunk lessons take only a couple of class periods to implement compared to extended research tasks and the information literacy skills instruction they include. We often hear that there is not enough time to engage students in an ORM/guided inquiry and still "get through all of the curriculum." Our Library Media team believes that multiple content curriculum objectives can be addressed in an Online Research Model structured according to GID. We need to convince our curriculum partners that we can design ORMs to achieve this, and that students need multiple opportunities each school year to engage in extended, in-depth inquiry and to learn and develop the associated skills.
In our new/revised ORMs, we hope to provide students with more opportunities to generate their own questions and engage in reflection during the process, and to increase student choice of topic, process, and product. While most of our ORMs include some student choice at various steps in the inquiry process, in some cases student choice has been limited by the demands of the curriculum. For example, our ORMs have always included an "essential question" aligned to content curriculum. This is not necessarily the same as an "inquiry question," which might be more focused and could be developed by students themselves as part of the process. Students also need more opportunities to locate information sources on their own (both in our licensed digital content and on the open Web), and to develop skills like identifying keywords, building search queries, and evaluating search results. There has been a tendency to provide lots of targeted information sources in our ORMs, in an effort to "save time" by steering students directly to sources that include information required to address the research task. This is a missed opportunity for students to develop some essential information literacy skills.
Another goal we have is to fine-tune the skill-building resources and tools in our Grades 5-8 Research Guide. We would like to link directly to skill-builders and tools aligned to specific GID phases in our Online Research Models. For example, a student engaged in an ORM who needs help with note-taking/paraphrasing during the Gather phase would find a direct link to a tutorial from the Guide at the point of need, or the teacher/librarian could readily utilize these resources with students as they identify "zones of intervention" during the research process.
In closing, I want to mention that I purchased the new Guided Inquiry in Action: Middle School book earlier this year. I am so excited to incorporate ideas and insights from this book as we revise some of our existing middle school Online Research Models and design new ORMs this summer.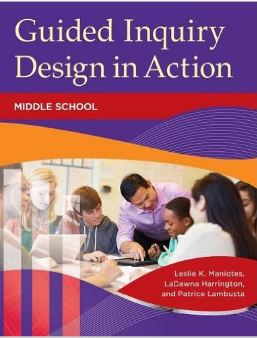 I really appreciate having had this opportunity to share some of Baltimore County's GID journey with you here (thanks for asking me Leslie!) Any questions or feedback about our work from fellow educators using GID is most welcome!