Well… reintroducing, really!  I'm a Teacher Librarian at St George's School in Vancouver, BC.  That's right, the same school as the divine Curious St George!  While she's at our Jr School (grades 1-7), I see the boys when they come up the street to our Sr School.  Yes, I used the word "boys" purposely as we are a single-gender (boys) school.  You might be interested in my posts (1,2,3) from last year where I talked about work with a grade 10 Social Studies Class and how I look at other tools as they work in conjunction with GID, such as NSRF's protocols.
To put things in context, I've been at St George's School for 25 years.  I was likely hired, in part, because I'd played rugby in high school, but I was brought on as a music teacher and have yet to spend a day on the rugby pitch.  In 2009, some different opportunities opened up at the school that I thought that I'd try my hand at.  I started leading an educational technology cohort of teachers and took on a very "part-time and temporary" role as our school librarian.  Since then, I've completed my MLIS at San Jose State and am permanent and very full time…  In the past year, I've also taken on the creation and administration of a grade 10 STEM program.  Through this time, I've written a number of articles for Teacher Librarian magazine, co-authored a book on Collection Development with Dr David Loertscher and, most recently and pertinently, have contributed chapters to Leslie's High School edition of the GID book series.  I also have a personal blog that I'm recently not contributing much to, but if you're more interested in the kinds of things that I think about, you could head over to Adventures in Libraryland.

My journey in GID started in a meaningful way, when Leslie was kind enough to organize a trip to Boston for myself, Curious St George and two of our Sr School Social Studies teachers to check out two schools who were deeply embeded in the ways of GID.  The teachers and librarians at Lexington and Westborough High Schools were amazing hosts and we had a chance to talk in depth with students and teachers about their experiences with GID in conjunction with some great chats with Leslie to help put it all in perspective.  From there, we came back to Vancouver and started implementing the model and spreading the gospel.  Since then, I've worked with teachers at our Sr School in Social Studies, English, Computer Science, and Languages to design and implement GID units.  Some were successful and some were less so, but all engaged students in meaningful ways and made research relevant.
In my own teaching, I've been looking at instructional design models that focus around building or making physical manifestations of student learning.  My current STEM cohort works most overtly with a Design Thinking model that has come out of Stanford's dSchool.  This is not to say that I've abandoned GID however.  My experience and knowledge of the GID model has informed everything that I do within the Design Thinking model.  I actually see a strong correlation between the two models and I think that aspects of GID truly make Design Thinking, when used as instructional design, much more effective.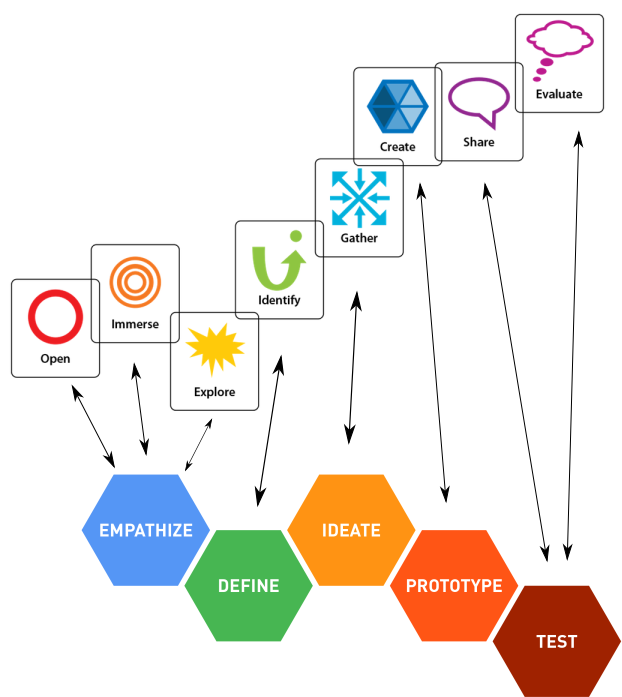 In a nutshell, the emphasis in Design Thinking is in the creating a solution to a problem.  In many ways, it is akin to Problem Based Learning.  What GID brings to the process is the stronger research structure and documentation of thinking.  While every one of my students thinks in terms of the Design Thinking model and are adept at adapting that model to a variety of situations, they are also using the tools of GID in their Inquiry Journals (blogs), and how they approach their Immerse and Explore phases.
My next posts will look at this relationship between GID and my students' use of Design Thinking.  Likely, my last post will look at our current process and investigate how explicit use of GID concepts will allow us to improve the work that they are doing in a few key ways.  I hope that you'll enjoy reading and I encourage you to push back and challenge me as we go.  I don't pretend to have all the answers, and I likely have even fewer than I think I do!
Marc Crompton