Greetings from South Carolina! My name is Jamie Gregory, and I am a public high school media specialist in the Upstate of SC at James F. Byrnes High School. I taught high school English for 8 years (including 1 year of French) and just finished my 4th year as a media specialist. I completed my MLIS degree in 2012 from the University of South Carolina, and I was introduced to the GID model during my time there as a graduate student. While I also learned other inquiry models, I found the GID model particularly effective and applicable because it is research-based. Also, Kuhlthau's ISP model is life-changing. Reading the research on the emotions and behaviors underlying the research and learning processes really changed how I approached the research process while I was still a classroom English teacher.
South Carolina recently adopted new ELA standards, specifically dedicating a strand to inquiry-based learning. Let me tell you, we are doing some great things in SC! Major props to the standards committee for recognizing the proven effectiveness of inquiry-based learning. The state standards document even goes so far as to explicitly state that inquiry-based learning should be incorporated by all classroom teachers, not just ELA:
Can I get an AMEN?! (or whatever you'd like to shout enthusiastically!)
So, given all this change, my district decided to offer a professional development cohort called Inquiry in the Classroom. When the head of professional development asked for volunteers to lead it, I knew I wanted to jump in so I could also promote the role of the media specialist in inquiry-based learning.
I led Inquiry in the Classroom, a professional development cohort of 18 English, Social Studies, Science, and special education teachers grades 9-12, from January to May of 2017. We met once per month, and I knew I wanted to share the GID model with these teachers. I also knew that I wanted to have teachers begin to implement aspects of inquiry-based learning throughout the semester so that we could have brainstorming sessions at our meetings to share successes and opportunities for improvement.
My posts this week are going to feature my collaborations with 3 English teachers at my school: Sarah Plant, Jena Smith, and Michael Jett. They are truly awesome educators and I can't thank them enough for working with me this past year.
I spent a lot of time during the cohort sharing resources about the importance of questioning. (I also highly recommend the book Cultivating Curiosity by Wendy Ostroff!) Meeting students in the Third Space so they can choose topics and ideas that interest them and affect them personally is so important, and educators can help them discover new topics that students didn't even know they wanted to learn more about! By the time we get our students in grade 10, some students have already "gotten by" with being passive learners. So when they are asked to be curious, ask questions, and engage in real-world issues, they truly aren't sure what that looks like.
But don't worry, we always have a few tricks up our sleeves!
Idea #1!  One activity for creating questions comes from a very effective professional book, Coteaching Reading Comprehension Strategies in Secondary School Libraries: maximizing your impact by Judi Moreillon. Chapters are organized by 7 strategies, and I focused on the chapter titled Questioning. Visit the ALA.org website to see the online extras available for this book! (Trust me, there is so much good stuff here you will feel overwhelmed by what to try first!) http://www.alaeditions.org/web-extra-coteaching-reading-comprehension-strategies-secondary-school-libraries
In our March cohort meeting, I had the teachers watch a brief video about coal mining today.
I chose this particular video as an example to use with students in a science classroom because information literacy skills can be embedded along with science content knowledge (have students question the source of this video! Challenge them to find a video from an opposite bias!).  In order to model how you might use the above handout in the classroom during the Open and Immerse stages, as a cohort we brainstormed some questions we thought we had about coal mining today before watching the video. Then while we watched the video, each person wrote down questions. After the video, we wrote even more questions after sharing! This activity works really well to show students the recursive nature of questioning and learning. Then the bottom of this handout addresses metacognitive skills as well as information literacy skills! So wonderful!
Idea #2! For middle and high schoolers, there are a number of wonderful nonfiction series to help students research argumentative topics. We particularly like At Issue, Critical World Issues, Current Controversies, Opposing Viewpoints, and Thinking Critically. Some of these series provide questions as chapter titles, which we used with some classes. Some databases like SIRS Issues Researcher also provide questions related to various topics which can be used for scaffolding. Partner up with your media specialist to learn what resources you already have in your school library! These resources can effectively be used during the Open and Immerse stages, particularly if you have your media specialist set up a gallery walk with stations.
In this screenshot, SIRS Issues Researcher (a ProQuest product) suggests various subtopics related to Military Ethics and represents those subtopics by questions!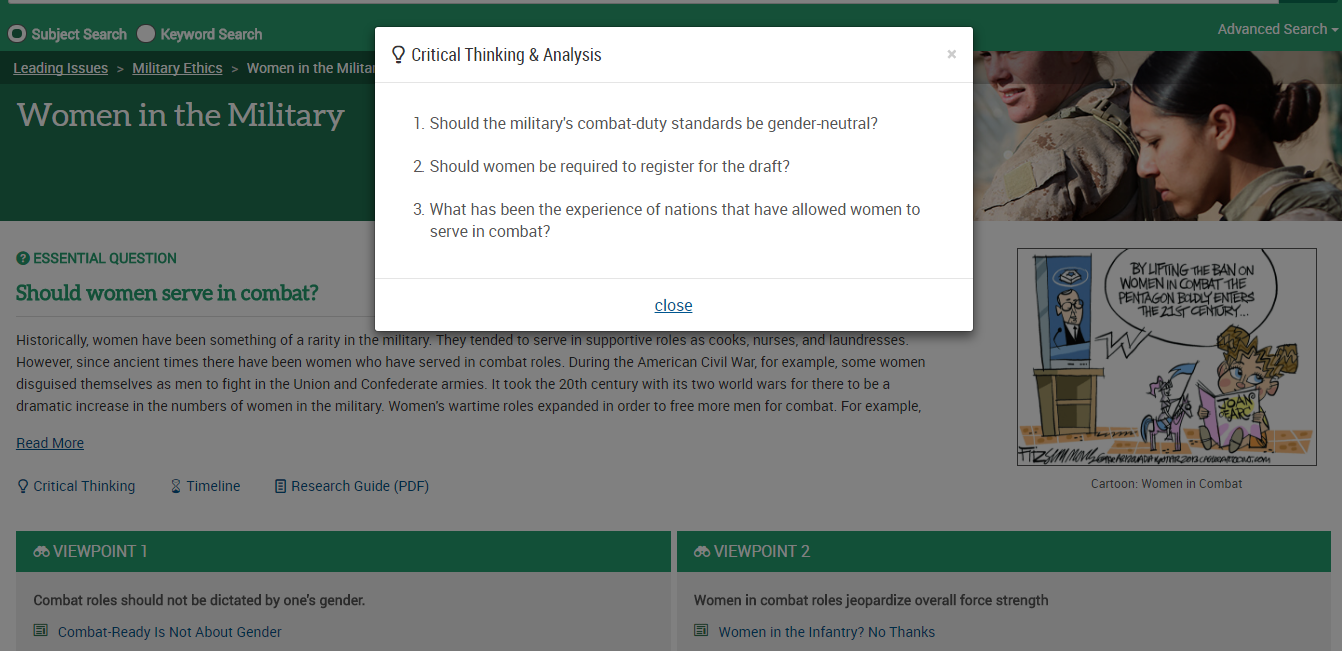 In this screenshot, you can see how SIRS Issues Researcher provides a few critical thinking questions when students click on a topic. Don't miss the essential question in the background!
I will feature ideas and student work from Sarah Plant and my library service learners in tomorrow's post to continue the discussion about questioning, and I will include how we focused on developing concept-based research assignments. Stay tuned!
-Jamie Gregory @gregorjm jamie.gregory@spart5.net