One of the things I love most about my job as a middle school librarian is that I get to work with every department and every grade level. I work with some departments more than others, and a goal of mine this past school year (since it was only my second year there as librarian) was to work with my seventh-grade United States History staff. They were looking for a way to assess the end of a recently-taught unit, 1890-1910, using their class sets of laptops. We tossed some ideas around and I introduced the idea of Guided Inquiry, with which they were unfamiliar. After a quick overview, they were sold. We decided to pose the question to students: Which event, person, or invention from this time period had the most effect on its time period, today, and will have the most effect 50 years from now? We chose the outlet Padlet.com, a free online curation site, to display their work (which was also unfamiliar to them), although students were able to use any platform they wished to display their ideas.
After some quick instruction in finding resources – they all had to be digital – and reminders for how to cite digital sources, students reviewed the time period, their notes from the unit, and did some research into some possibilities. Students had a few class periods to work on their projects. I assisted occasionally during these work times, answering questions and also asking some that would fine tune their thoughts.
On the day their projects were due, students had the opportunity to review each other's work, filling out a peer-response form that asked about what the project did best, places for improvement, and general comments. Many of the students remarked how much more they learned about topics by looking at what others had done. The creativity of students was outstanding! See below for an image, and here to see some of the best ones.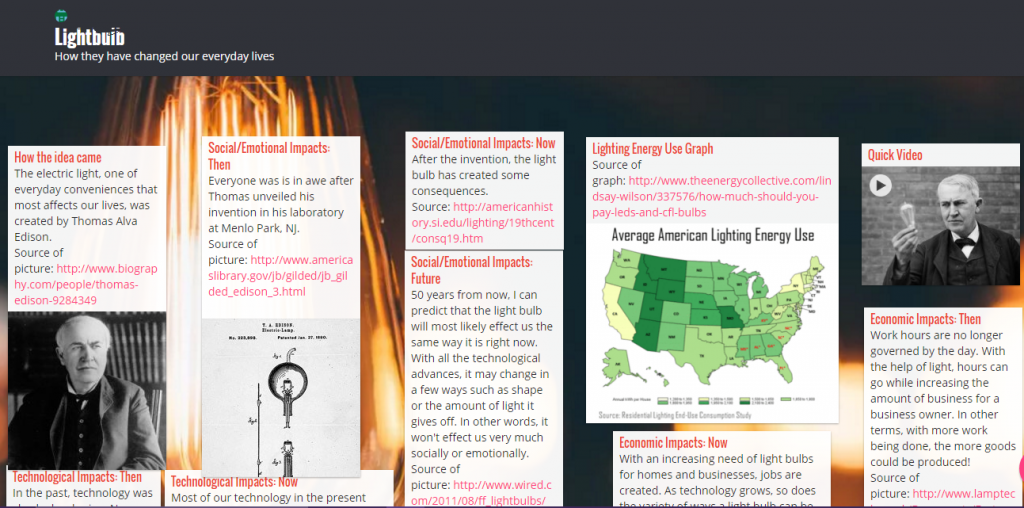 Looking back, I liked that this project generally followed the GID process, but we made it a bit more casual for my first attempt with a new department and their first attempt with both GID and Padlet. When asked at the end of the project, students said that this was one of the best end-of-unit projects they did and that it was so much more engaging than a test or another paper/pencil assessment. Students completed the research process,including citations, but in a digital way and on a topic of their choice. The teachers stated that some projects were better than others – which is normal in a middle school classroom – but students were consistently on task and engaged with what they were working on. The teachers also agreed that this project is something they would do again this next school year, and that the quality of work was better than typical assignments/projects they had assigned earlier that year.  If I were to change anything about this project, it would be to delineate more of the process, perhaps curating a few resources for them on the time period and pointing students to databases (and perhaps doing some instruction on advanced Google searching) that could give them some more ideas.
As a librarian, I appreciate that GID gives me additional opportunities to collaborate with teachers who are looking to transform their students' learning. It helps the staff to see for themselves that I don't just check out books but I am an instructional partner as well. Sometimes teachers know it in theory, but it's assignments like these using GID that help reinforce that to them. I'm looking forward to doing this project again (and hopefully others!) with them during this upcoming school year!
Rachel Grover