While our American friends are celebrating Thanksgiving and taking a holiday for two days, 'Down Under' we are very busy completing the last few weeks of our school year and looking forward to our six week summer holiday!
This morning I have been working with two of our four Year 7 classes on their GID unit of work 'Ancient World depth study: China' and helping them finish off their reports before selecting a way to share their work – so far we have a selection of web pages, poems, songs and there will no doubt be a prezi or two!
But I digress – In my last blog post about the Year 5 Global Connections unit of work we arrived at the vital stage of 'Evaluate'.
This unit of work became extremely large and our time was very limited. We did, however, take the time to evaluate! This is very important so that a second cycle with another class can build upon what took place this time and improve on what was already so exciting!
The teaching team had already discussed quite a few aspects during the process.
One idea was to give certain students, with special learning needs, tasks that would allow them to absorb more knowledge without having to write as much. One boy we decided, who loves using cameras, should have been given the video management role so that as he edited he would have learned a lot more than through doing his own research!
Students could also have worked in groups, with a leader allocating tasks, so that some students could work on the logo, another on the script in partnership with those working on goals and motto etc.
This would have saved a lot of time but we were also aware of just how proud each student was of their individual achievement that they could then share with the others. Some of these activities, though, were also used to achieve outcomes in other subject areas such as Art.
We decided to evaluate the students and the teaching team but we also received unexpected comments from parents.
Students: Based on de Bono's hats
Catherine decided on a wonderful way to ask the students to reflect on their learning. After telling them all about de Bono's thinking hats she had them work their way around the room in groups to tables that held coloured pieces of cardboard. They all wrote comments on these and the teaching team, including a special needs teacher, circulated to assist in some of the 'harder zones'.
A timer 'bomb' App on the white board kept the students focused to achieve a comment in the limited time before the massive explosion!
I collected the cardboard and notated the comments  so that we could discuss this together later.
Teaching Team: Catherine and I discussed at length together – what went well and what needed fixing. I interviewed her and her responses were recorded and are stored here:
Student achievement: https://vimeo.com/128838865
Student Engagement: https://vimeo.com/128838303
Integration and evaluation: https://vimeo.com/128837052
Teacher Librarian Collaboration: https://vimeo.com/128837051
Integration and 'Thinking' Questions: https://vimeo.com/128837050
The Year 5 parents were amazed by the enthusiasm of their children throughout this whole unit of work and after their attendance at the "Summit" we received these two emails: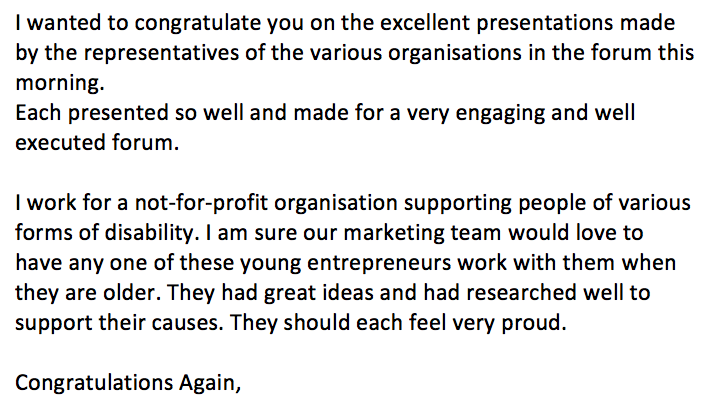 SHARE again – Widely!
I was invited to speak at the NSW annual conference of the Teacher Librarian Professional Learning Community. The topic I spoke on was TL – changing pedagogy to increase student engagement and learning.
I decided to invite along Catherine and also one of the students with his parents. I gave them half the time and we all spoke about our learning experience on this unit. Needless to say, a number of teacher librarians became convinced that Guided Inquiry Design, collaboratively taught and with the assistance of the teacher librarian certainly engages students but also increases their learning across many areas.
This GID unit of work really was a wonderful learning experience for us all!
Stay tuned for my final general GID wrap up reflections later in the week.
Happy Thanksgiving!
Alinda Sheerman (Broughton Anglican College, Menangle Park, NSW Australia)