Time to plan and meet seems to be the over arching impediment to good collaboration. Our Guided Inquiry Unit happens over the course of the year and the library works on a flex schedule. If your library works on a flex schedule and you can find a teacher that can work on an overarching theme within the content area that they are teaching, then using an extended time period is a great benefit to you and the students. This extended time period allows for a good deal of collaboration to happen in face-to-face time as well as time to work on lessons in a digital environment.
Our team has met face-to-face, by Google Hangouts, Skype, Google Keep, etc. where we take notes and share our ideas. When you can work in a flexible schedule environment there is a flow that occurs where some of the phases happen in the library, some in the classroom, and reinforcement happens seamlessly. For us, using a storytelling theme, we were able to have many of the lessons taught in the ELL classroom connected to the idea of story, always threading back to why story is so important in our lives and how cultural identities are wrapped up in stories.
The Team
The storyteller visits our school several times to present stories and workshops. Her first visit is as a special guest at the narrative festival
where students are sharing their stories to each other and parents. She presents her own narrative and this introduces her to the students. Her first workshop follows during the Immerse Phase. During Immerse the students are continuing to swirl around stories but it is expanding beyond narrative to folktales and stories from the variety of cultures represented in the class. Students begin collecting stories from their own cultural backgrounds. These stories may be gathered from interviews with their parents, by exploring folktales from around the world using print and digital resources in the library.
The storyteller is invited back to do a storytelling workshop. Her storytelling selection will draw from one of the cultures represented in the classroom.
Whatever her selection, she provides a written copy to the classroom teacher. This is important because the students are just learning English. By having the story in advance the ELL teacher can introduce vocabulary words from the story to the students to build some basic understanding of the stories that will be presented. During the storyteller's visit she engages the students in theatre and story games that require few if any words to help break down inhibitions and build confidence and trust.
She presents the prepared stories and introduces storyboarding.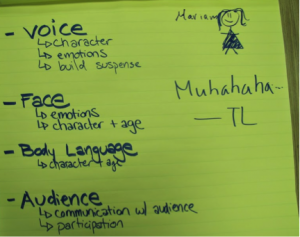 Moving into the Explore Phase students have been Immersed in culture through stories, now they begin to explore the countries from which these stories originate. Resources like our Culturegrams database and country books etc. are explored.
Students are paired with someone from a different culture and with guidance from the ELL teacher formulate interesting interview questions of their partners about things they have discovered in the resources and from drawing on the background of narrative and culture discovered from the folktales.
It is from the interviews and exploration of the resources that the students start to discover the question(s) they want to really focus on that comes in the Identify Phase.
As you look at the way Guided Inquiry Design is laid out you can begin to see how VERY important the Opening, Immerse and Explore phases are to helping student questions drive the learning. As the librarian and content teacher we could easily have given the students a list of countries for them to research. We could have given our students a rubric of what we wanted the research outcomes to be. But in Guided Inquiry we have brought them to the research component of learning about a different country through the idea of how culture shapes identity, how everyone has a story, and how do those stories teach us about each other and the world around us.
A quick word about the Gather, Create, and Share Phases because in my final post this week I want to bring it around to reflecting on the process. And bring to you a variety of voices involved in the process.
Gather: many mini-lessons are taught about plagiarism, copyright, citation, notetaking, etc. We use many tools that include: Noodletools, Google Docs, Inquiry Journals (digitally to provide zones of intervention)
Create: Google Sites are used to create a portal that is a presentation for student learning, that may include video-casting, oral storytelling (that is video taped and posted), etc. Students have choice in how they will communicate their learning. We use the Google Site as a portal for that creation. It is important with this group of students that we are able to track their writing, speaking and listening skills and this portal allows us the ability to capture these different modalities.
Share: International Night  – Students invite their parents to share food, fun, stories, and the hard work they have done.