As my last post, I'd like to share some collaboration between myself and another English teacher, Michael Jett. Michael requires all of his English students to read at least one book per 9 week grading period and present a project to the class. So we have the usual struggles: students who want to pick a book they're already read so they can skip the reading part; one wanted to choose Captain Underpants just to be cheeky; some genuinely have zero interest in reading anything.
We devised a system that Michael named the Individualized Reading Plan (IRP). We agreed that each of his students would come to the media center to meet with either me or Karen Hill (fortunately 2 media specialists work at my high school of 1,700!).
To begin, Michael always has his students fill out a reading survey via Google Form. He then shared those results with us. When each student came to the library, we pulled up the spreadsheet and reviewed their answers with them. We had them create some specific reading goals for the 9 weeks. We also had time to provide reader's advisory individually and help them pick a book to read if they didn't have one already. In short, it was every librarian's dream! We repeated this process after the first 9 weeks grading period in order to reflect on their progress toward their goals, to make new goals, etc.
We decided halfway through the semester that recording all of this information on one Google Sheet made it difficult to read (and while I love technology, use it, and teach it, sometimes paper is just easier). Plus, we realized that not every student remembered their reading goals. So we came up with a handout that the students used to write down their goals and specific steps they would take to reach those goals. We even included space for their parents to sign the sheet and write down any comments.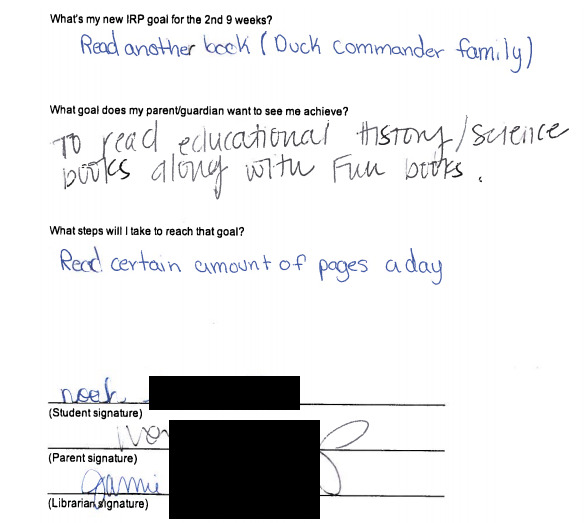 Of course because of things like student absences, tests, assemblies, and life, the timing of these conferences did not always occur in a timely manner. But overall we were all pleased with the process and are looking forward to tweaking it next year. Mostly we were so happy to collaborate with a classroom teacher who put so much faith in the media specialists!
The Individualized Reading Plan process fits into the GID model by emphasizing individualized education, goal setting, and reflecting throughout the entire process. We used the concept of Third Space to connect students to reading material that would interest them, and provided scaffolding for the student who wanted to read Captain Underpants just to be sarcastic. You don't always just happen to find your next favorite book; sometimes we all need some guidance and suggestions! This is the brilliance of the school library. There is something for everyone that they didn't even know they were going to love. This process reminded some students that they did enjoy reading (sometimes teenagers need that little nudge!).
Self-reflection is the process that gets our students to that next level. Having them write their own goals and sign their names next to them helps them feel involved in their own education. When they start holding themselves accountable for their learning or lack thereof, we know we are doing our jobs.
Farewell from South Carolina! –Jamie Gregory   @gregorjm  Jamie.gregory@spart5.net
Michael Jett  @mrjett213  michael.jett@spart5.net