I have learned so000000 much about GID  through working with my school librarian.  My students and I have had many successes with GID because of our school librarian.  And there is no doubt that I am a better teacher because of collaborating with Anita Cellucci (@LibraryWHS)–our school librarian.
A pathetic confession:  over twenty years ago, I was taught that a school librarian could help me find a book I needed and then check out that book.  And that's it.   And fortunately, it was ten years ago when Anita taught me that librarians do much more!  And it was Anita who suggested we attend The Center for International Scholarship in School Libraries (CISSL) Summer GID Institute for Student Learning at Rutgers University four years ago.  Thank you, Anita!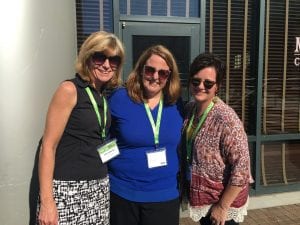 ***
Anita truly embodies the role of the librarian in the GID process.  In Figure 4.3 in Guided Inquiry Learning in the 21st Century (Kuhlthua, Maniotes, and Caspari 57-58), the roles of the librarian are described as Resource Specialist, Information literacy teacher, and Collaboration gatekeeper.  I can attest that Anita fully defines these roles in our GID collaborations that have occurred for twice a year for the past three years.  She began by creating a LibGuide for my course and for our GID (http://whs.westborough.libguides.com/psychinlit).  She helped me contact speakers from NAMI (National Alliance on Mental Illness) as part of our OPEN stage.  Anita taught the lessons on information literacy and research.  She facilitated the creation of all the students Inquiry Questions (including how to write a quality inquiry question)…each step of the process, Anita was right there.  As I mentioned in my previous post there was such freedom in letting go of picking research topics for students; well it's equally freeing to co-teach with Anita and share the teaching responsibilities.  Like I shared at the beginning of this post, Anita has taught me a lot about informational literacy, trusting the GID process, and having patience with our students as they navigate their GID journey.
Here is one student example of how Anita supports our students.  The following response is from the student's reflection at the end of her GID experience.
Identify at least one difficulty you encountered during your inquiry?
One difficulty that I found during my inquiry is finding articles related to my project. It was hard to find mental illnesses related to trauma, and PTSD that wasn't related to people in the military since not one article explained all the mental illnesses related to trauma. Most of the articles that I found about mental illnesses related to trauma was PTSD, and this was also mostly related to people in the military. This was interesting, but not related to my question. Another difficulty I encountered was finding mental illnesses related to trauma. The articles that I originally found didn't say what mental illnesses people may develop after experiencing trauma, which then made it hard to answer my question.
How did you overcome the difficulty?
I overcame this difficulty by first asking Mrs. Cellucci for help. We decided that I needed to use more Boolean Operators to narrow down the search. This made sure that I was pinpointing exactly what I wanted to research. One of the new searches I used was PTSD not veterans. I found many more articles related to what I was researching this way. To solve my problem with more mental illnesses, I started to look up mental illnesses that I thought may be related to experiencing trauma, and soon found many mental illnesses that way.
As one can read from the student's responses–I asked Mrs. Cellucci for help–to collaborate with Anita is to offer our students two educators with whom to work.
And this year, Anita was mentoring a student teacher–Luke Steere who actually blogged recently for 52GID.  This past semester the three of us joined together to teach GID to my senior seminar Psychology in Literature.  It was a classroom teacher's dream come true–three educators working with twenty students.
I've heard classroom teachers say they don't have time to collaborate with their librarian or the classroom teacher can "teach it all."  I contend that we actually create more time for ourselves when we collaborate with our librarian and no teacher can teach it all.  It's also a wonderful experience to connect with a fellow educator.  We have a heck of a lot of fun–Anita and I laugh  many a day–and we also have shed some tears.  Thanks, Anita, I look forward to teaching GID with you next year!