It's me again, Guided Inquiry Friends! I've introduced myself to you before (here and here!) as Paige Holden. This time I'm coming to you as Paige Littlefield (52 days of wedded bliss and counting!).
I'm so excited to be blogging again. What's even more exciting is that I'm sharing the blog this week with a colleague I have SO much respect and admiration for- Kelsey Barker, middle school librarian (library mastermind, I like to call her) and district Guided Inquiry Trainer. Oh, and did I mention she's also my bestie?!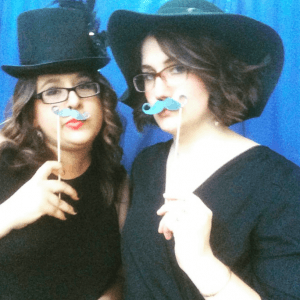 We've done a lot of collaborating over the years, and we're excited to share with you something we worked on together. She'll be around tomorrow to introduce herself- you will LOVE her! But first, here's what you need to know about me.
I'm in my seventh year of teaching, all of which have been spent in Norman Public Schools in Norman, Oklahoma. For five years (and both of my other blog posts), I taught eighth grade Language Arts at Whittier Middle School. Last year and this year, I've worked as an Instructional Technology Integration Coach (iTech Coach for short!) at Norman High School. This is a brand new position- our district implemented a 1:1 technology initiative last year, and now every student in grades six through twelve has a MacBook. iTech Coaches were hired at to support that initiative at each of the six secondary sites. I share an office with our school's onsite tech specialist, but my goal is to be in the classroom seventy-five percent of the time, helping teachers implement technology in meaningful and innovative ways. If you're interested in what exactly that looks like, I'd love for you to check out my Instructional Technology Coaching Menu.
Leaving the Language Arts classroom was difficult, and stepping into a newly created position hasn't been without growing pains. I went from a middle school of 60 faculty and 1,100 students- only 120 of which were mine to worry about- to my new high school, with its 150 faculty and 2,300 students- every single one of whom I have a share in the responsibility for. It was quite the transition to make, but something that's really made it worth it for me is that now I have the opportunity to share the things I feel passionately about with a MUCH wider audience- things like differentiation, collaboration, creativity, student choice, reflective practice, professional development, ,AND- you guessed it- Guided Inquiry, which encompasses every single one of those other things!
Before writing today, I took a few minutes to re-read my past blog posts. I hadn't read them in a long time, and it was SO interesting to see how my relationship with Guided Inquiry has evolved over the last three years! I went to my first Guided Inquiry Institute in the November 2015, and I implemented and blogged about my first unit- Natural Phenomena– in February 2016. I was so proud of that unit- I knew then that I was a Guided Inquiry convert! As much as I loved that unit, however, my grade- level team and I knew we could do better. We attended another institute in our district that summer, and implemented another unit in the spring of 2017- this one about World War II. Instead of creating a unit out of thin air just for Guided Inquiry, like we had before, we took an existing unit and turned in on its head. Our goal was to embed research into our curriculum, rather than make it this huge event, and it was a huge success.
When I moved into my new position, I knew I would no longer have my own classroom in which to plan and implement Guided Inquiry units. Instead, I'm able to work with teachers across grade levels and content areas to design and implement their own units. Our district has the very first District Guided Inquiry Trainers, and I get to attend every secondary institute they teach- three each year- to work with multiple teams from my school. I have opportunities to support teachers in instructional design, student questioning, and the implementation of technology, and I love every minute of it. None of this would be happening at Norman High, however, without one person in particular.  I'm not sure GID could flourish in a school without a teacher librarian at the helm, and I'm fortunate enough to work alongside the one and only Martha Pangburn. She was fanning the flames of Guided Inquiry long before I came along, and we couldn't do it without her!
This summer, I took my relationship with Guided Inquiry to a new level. I attended a Guided Inquiry Institute at Rutgers, not as a participant, but as a step toward becoming one of the first four National Guided Inquiry Trainers. It was the professional development experience of a lifetime. I was able to observe SUCH diverse teams from all over the U.S. as they began their journeys with Guided Inquiry, and I learned so much about teaching and coaching from Leslie and from my fellow trainers in the making.
I know this is supposed to be an introductory post, but as I look back over the last few years, I can't help but reflect on how much Guided Inquiry Design has shaped my professional growth. I'm a better teacher, a better colleague, and a better coach because of my experiences with GID, and I'm so happy to get to share a little piece of that with all you this week.
Kelsey and I are taking turns, so you'll hear from her tomorrow and I'll be back Thursday. Thanks for reading!
Paige Littlefield                                                                                                                                                                                          Instructional Technology Integration Coach                                                                                                                                                Norman High School                                                                                                                                                                                            Norman, Oklahoma