My goal this week on the blog was to share my experiences and thoughts about making time for critical learning experiences in the Open, Immerse, and Explore phases of inquiry learning. Analyzing our own attitudes toward how we decide to spend our time in our classrooms is the first critical step. Then remember that you are not alone! When classroom teachers and school librarians collaborate, we can create some truly exciting opportunities for our students!
On Wednesday, I shared an idea to invite local community members to your library during the Immerse phase and plan gallery walks to expose students to lots of different types of information sources during Explore. Another fun idea to try during the Immerse phase is a breakout box activity!
Modeled after escape rooms, a breakout box activity can take many different forms and can be used in any classroom and level. Students can work as a whole group, in small groups, with a partner, or individually to solve clues, unlock locks, and discover what's hidden in the locked box! Even our high school students get active and enthusiastic. One teacher said, "I see some of my students participating who usually do nothing!" One school librarian in my district planned a breakout activity for the faculty during an in-service day before school started.
We have successfully designed 3 breakout experiences: library orientation, book censorship, and the beginnings of the Cold War. We began by purchasing a box set from Breakout EDU which was $100. However, you can buy your own boxes and locks for less than that. The advantage to buying from the website is that you get access to hundreds of lesson plans. The set includes invisible ink pens with a special flashlight, which is incredibly fun for the students to use to solve clues. Also included is a small USB drive. I made a short video of myself giving a clue, saved the video on the USB drive, and hid the drive in a book.
To begin, create a scenario that is exciting for students. For example, when we use the breakout for library orientation, we play music from Mission Impossible while reading aloud the following:
"You and your friends have been investigating a biochemist on suspicions that he is making bioweapons. His evil plans are locked in a black box in order to prevent you from finding them and destroying them. You must find the evil plans and destroy them or this mysterious villain will unleash a deadly virus in 30 minutes!"
For book censorship: "A group of parents is angry about some of the books available for checkout in the library. Specifically, they are complaining about To Kill a Mockingbird, the Adventures of Huckleberry Finn, and Harry Potter. They have locked the offensive books in a large, black box and are planning a book burning ceremony in order to get rid of these controversial books! You have 30 minutes to save these books from an untimely and unjust end!"
For the beginnings of the Cold War: "World War II has officially been declared over with the unconditional surrender of Germany. While people around the world celebrate, another conflict has been brewing between the Allies, even before the war ended. The new world superpowers the Soviet Union and the United States are battling for territory and influence after the Nazi threat is defeated. As the United States is concerned about the imminent spread of communism, the Soviet Union also begins its own nuclear program. This new cold war has the potential to end in total devastation. You are the superpowers, the Americans versus the Soviets, working against the clock to prevent a world-ending nuclear holocaust. Be the first country to unlock the nuclear codes and get them out of the hands of the enemy. If you fail, your opponent will acquire your country's nuclear codes, and a mushroom cloud may be in your future. You have 30 minutes to overcome Cold War mistrust and tensions to save the world."
For the Cold War activity, we passed out paper copies of Soviet Union and American flags to students as they walked into the library, dividing them into two teams. This idea helped create an atmosphere to mirror the tensions of the Cold War (obviously on a smaller scale!). Each team worked to solve clues, but the box wouldn't be completely unlocked unless both teams were successful.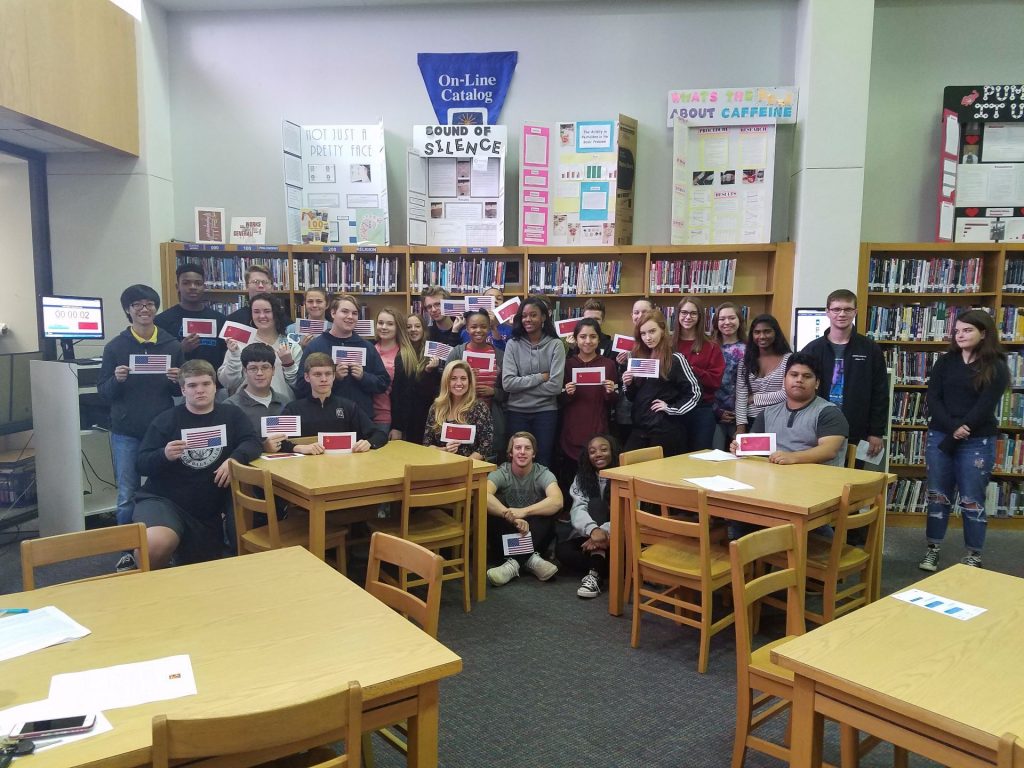 Design the clues so that students must access a variety of library resources in order to solve the puzzles and unlock the locks. For example, we use print books, eBooks, databases, infographics, and more. When we use this for library orientation, it's a great way to test if they know how to use an index. And if they don't, they'll figure it out quickly because they become competitive and don't want time to run out!
Here's one clue from each of our activities so you can see examples if you haven't created one yet. Library orientation: "Those pesky librarians are always changing things around…this time, they have adopted a new way to use online resources called MackinVIA. Apparently they have given each student their own login. Go to schoology and open the MackinVIA link. Open the Opposing Viewpoints database. Some people call me a bully (imagine that!) and I want to know just how many news articles are available for me to read under the bullying topic." Book censorship: "It's not easy to stop people who want to burn books! For the first step in finding the key, figure out which book is number 6 on the list of books most challenged in 2016 as reported by the Office for Intellectual Freedom." The Cold War: "You must find the type of uranium used in the center of the secondary fusion device to accomplish the most powerful explosion from the nuclear bomb before the other team. What is it? (Hint: Find Matt Bougie's Strategic Inventions of the Cold War.)"
Most importantly, HAVE FUN! Use a free website to create fake text messages. I created the following conversation between Truman and Stalin as part of what was in the locked box during the Cold War breakout. You can get really creative with a breakout activity! Use QR codes. Maybe your principal could play a role or make a guest appearance.
Breakout experiences are effective during the Immerse phase because students become exposed to lots of information through solving various clues. Design the clues so students use content area knowledge to solve them. After the breakout experience, debrief students. Have them share answers to clues if they worked on solving different ones. From here, students can choose which aspects they encountered during the breakout to investigate further in the Explore phase.
I hope you have enjoyed my blog posts for this week. I truly believe in the importance of educators making time for what matters and modeling their own curiosity and excitement to learn for their students.
-Jamie Gregory, NBCT, Duncan, SC
@gregorjm    jamie.gregory@spart5.net